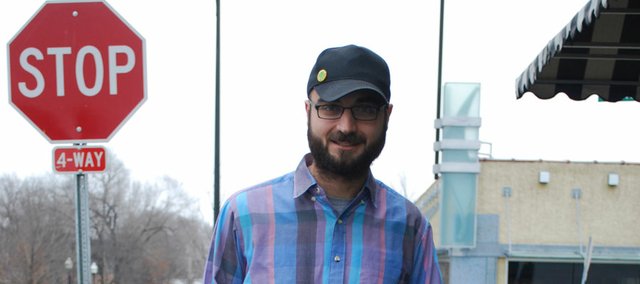 Originally published December 23, 2010 at 2:58 a.m., updated December 23, 2010 at 2:58 a.m.
Age: 27
Sign: Leo
Occupation: Doorman, Bartender, DJ, Record Hustler, Fireworks Salesman, Everyman.
Hometown: Prairie Village
Time in Lawrence: I've been here since I was 18, so almost 9 years.
What were you doing when you were scouted? Walking into the Eighth Street Taproom.
How would you describe your style? Kind of dorky, kind of hip, and pretty honest—I know what I'm into.
What are your current favorite fashion trends? Champion angle-cut sweatshirts, nylon Starter jackets from the '80s, classy button-ups, and pearl snap shirts. Nothing super preppy or over-the-top.
What are your least favorite fashion trends? The homogeneity of office fashion and tight, suffocating jeans.
What would you like to see more of in Lawrence? In-between fashions versus the polar opposite, contrasting wardrobes of hipster crowds and bros.
What would you like to see less of in Lawrence? Scarves on men, baggy jeans, and college apparel.
Do you have any fashion influences? My friends and the people I hang around. I talk to Ricky Brown, who runs Well Fed Artists Society. I used to talk to Brian Sears about fashion, too.
Do you have any piercings or tattoos? I do not, but maybe someday. I'll probably never get any piercings though.
People say I look like… the obscure actor Liev Schreiber.
Tell us a secret: I have a DJ superstition—I always wear mismatched socks when I DJ.
More like this story on Lawrence.com