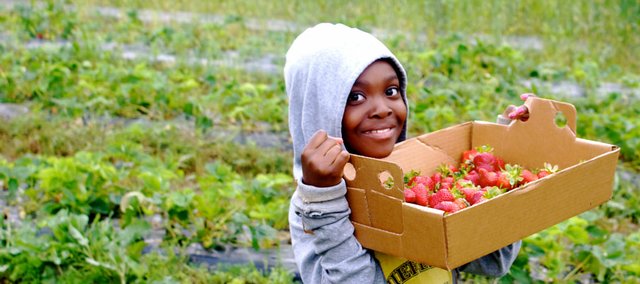 Originally published December 28, 2010 at midnight, updated December 28, 2010 at midnight
From highs that include the farm-to-school movement (kids + heirloom tomatoes = adorable!) to lows such as the closing of more than one beloved eatery (No one did quinoa quite like The Casbah Market), 2010 could be called the year of the foodie, Lawrence edition.
Here's a breakdown of some of Lawrence's biggest, and most interesting food stories of the past year. Let's just say 2011 better have its mise en place started if it plans on one-uping the past 12 months.
Farm to school. Arguably, the biggest Lawrence food story of 2010 was made possible by some of the city's smallest residents.
Coming on the heels of successful gardens at private schools (Prairie Moon Waldorf School) and daycare centers around Lawrence, The Community Mercantile's Nancy O'Connor led an initiative that brought a garden and oodles of food education to West Junior High in 2010. The West Junior High garden project made at least $4,000 for the garden's continued use by selling produce at weekly farmers' markets and also provided the school's cafeteria with more than 180 pounds of produce, saving the school $700.
O'Connor was also involved in a farm-to-school lunch put on at Cordley Elementary in May that treated more than 300 kids to a meal prepared almost entirely from locally made ingredients, including produce some of the children helped harvest. That effort was led by Linda Cottin of Cottin's Hardware & Rental, 1832 Mass., and Rick Martin of Free State Brewing Company, 636 Mass., who put together a menu containing lasagna, salad, whole-wheat breadsticks and a strawberry-rhubarb crumble.
Other public schools are in discussions for both gardens and possibly their own farm-to-table meals in the coming year.
And just this month, the Douglas County Child Development Association and Success by 6 coalition of Douglas County received a $100,000 grant to help get gardens on-site at 25 home-based child care programs, and three area child-care centers will get access to fresh produce by joining up with a local community-supported agriculture (CSA) program.
Old Lawrence hangouts finding new life. In February 2010, Lawrence said goodbye to its first downtown grocery store in more than a decade, The Casbah Market, 803 Mass. When it launched in January 2008, the market was meant to be an urban grocery store for downtown Lawrence, who could also enjoy fast vegetarian meals and snacks made with mostly organic ingredients from the back counter and deli display.
In July, the Casbah came to life again, this time as the new location for The Burger Stand, formerly located inside Dempsey's Pub, 623 Vt.
Maybe not so ironically, just as The Casbah was closing its doors, the owners of The Burger Stand, Robert and Molly Krause, were launching their taqueria, Esquina, in the space next door — 801 Mass. — which was formerly occupied by the historic Round Corner Drug Store and The Cheese & Salami Shoppe, a favorite of anyone in search of a quick sandwich, which closed in July 2009.
Irony, breaded and fried. In other vegetarian-spot-turns-omnivore news, the owner of Lawrence's all-vegetarian restaurant decided to close the restaurant down and open a chicken restaurant in the same space. Nancy Nguyen launched 10th Street Vegetarian Bistro, 125 E. 10th St. in late 2009 out of love for the vegetarians who frequent her first Lawrence restaurant, The Orient Vietnamese Cuisine, 1006 Mass. But, she says, the vegetarian menu just didn't work out. In early December, Nguyen decided to flip the bistro space into a comfort-food haven for poultry-lovers: Oh Boy! Chicken.
We all scream for ice cream? In a year that saw Lawrence lose local favorite Yummy's Over the Top Frozen Yogurt, 1119 Mass., and its franchise of Ben & Jerry's, 818 Mass., Lawrence gained 3 Spoons Yogurt, 732 Mass., and Orange Leaf Frozen Yogurt, 4801 Bauer Farm Drive. Moreover, Freddy's Frozen Custard & Steakburgers took over the former location of Sheridan's Frozen Custard, 2030 W. 23rd St., which closed Dec. 1, 2009. Call it a draw?
Local brands go retail. In May, after months of anticipation, Kansas beer lovers were finally able to have a sip of Free State Brewing Company beer without stepping foot inside the beloved Lawrence brewery. The retail arrival of favorites like Ad Astra Ale and Copperhead Pale Ale came two years after a fire set back production and caused more than $1 million in damages to the brewery's East Lawrence bottling facility.
Also getting in on the retail sales side of things was the veggie burger from Local Burger, 714 Vt. Tagged "The World's Best Veggie Burger," the quinoa-millet-sweet potato-greens burger made its way into grocery stores from Newton to Leawood and several stops in between, including the Kansas University campus, where it's being sold at the university sports venues as well as the campus eateries. It also has become the official veggie burger of other Lawrence restaurants, including Set 'em up Jack's, 1800 E. 23rd and the 23rd Street Brewery, 3512 Clinton Parkway.