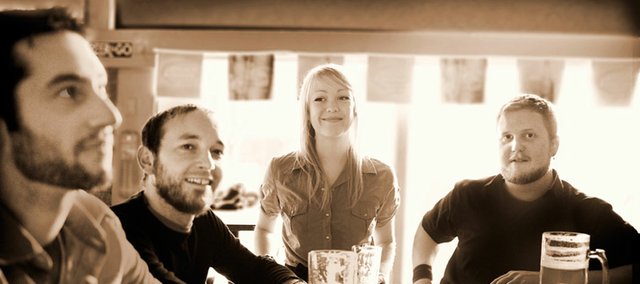 Originally published December 30, 2010 at midnight, updated December 30, 2010 at midnight
After a long year full of work and short on play, many Lawrence residents may be ready to kick back and celebrate the coming new year. Luckily for these would-be revelers, there are a wide variety of restaurants and bars waiting to cater to the ever-enthusiastic holiday partiers. As always in Lawrence, there will be numerous musicians and entertainers downtown at various clubs and venues.
The party with a purpose: Kelley Hunt at Liberty Hall
Lawrence resident and singer/songwriter Kelley Hunt will be performing at 9 p.m. at Liberty Hall, 644 Mass. St., debuting her new album, "Gravity Loves You," and playing songs from both the new album and her past offerings. Her album officially releases February 15, but fans can score it early by attending the show.
Tickets are $30 in advance through www.ticketmaster.com, or $35 at the Liberty Hall box office, the day of the show. All proceeds go to ECKAN/Just Food.
"There's room for people to dance and they can expect to have fun," Hunt says. "They can expect to get their butts kicked for a couple of long sets. It's New Year's Eve, so we're going to have champagne, a big balloon drop and a fun party. It's going to be a really amped up night."
Hunt, who says she's particularly excited to be playing this show in Lawrence, says her new album has an energetic feel to it.
"The reason we picked the title (for the album) was the idea of 'go for it, go for your wildest dreams and do it now.' That's kind of where I'm at in my life, which is just full-out. If not now, when? Just do it. That theme just seems to run through the whole record."
Anyone who brings a cash or canned-food donation to the concert will receive a $5 coupon off of Hunt's new album or any of her other merchandise. All donations go to ECKAN/Just Food to extend critically low local food stocks.
"We just became more and more aware that the need was rising," Hunt says. "It's nice to be in a position to do something on this scale for an organization like them."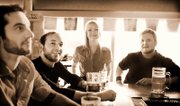 Off-beat: Murder By Death at The Granada
Also playing on Mass Street, at the Granada, 1020 Mass. St., is Murder by Death, a four-piece rock band from Bloomington, Indiana, with leanings toward alt-country and epic, fantastical lyrics.
Doors open for the show at 8 p.m. and tickets will cost $12 at the door, $10 if purchased in advance.
Front man Adam Turla says he's looking forward to ringing in the new year with the gig.
"We love playing Lawrence," he says. "We've played here 20 times over the years. When we got offered to do this show at the Granada, I was pumped for it."
Turla says concertgoers should expect an emotional live performance from the band, with various swells and shifts in tempo and dynamics throughout the show.
"I'm very, I guess, set about it being an active live performance," he says. "I want a flow where we play a couple of songs where we're upbeat and energetic, then we try and drop it down into quiet songs. We have dark subject material, but there's also a lot of triumph and hope in a lot of songs. Things look pretty dark, but there's light at the end of the tunnel."
Turla admits there is an interesting counterpoint between his sometimes-grim lyrics and the general jubilance that makes up New Year's Eve, but says this will be part of the unique draw for many people.
"The balloon drop, confetti – I'm looking forward to all of that. We're definitely going to play an upbeat, lively show – keep things as fun and celebratory as much as possible. "
For the traditionalist: Dinner and Dancing at The Eldridge
For an upscale evening experience, the Eldridge Hotel, 701 Mass. St., will host a three-course dinner in the Crystal Ballroom, followed by dancing and a performance by MultiPhonic, a Kansas City cover band.
According to band member Mark Hamblin, the band plays a wide variety of music from Aretha Franklin hits to '80s rock.
"We do all sorts of stuff," Hamblin says. "We're a true variety band. Dance music from swing to current. They'll get to hear a wide variety of music. There will be lots of chances to dance. There'll be a horn section and both female and male lead singers. People will get to hear a bit of everything."
The dinner begins at 7 p.m. and is priced starting at $50 per person. Also, for those only wanting to dance and listen to MultiPhonic play, the doors open at 10 p.m. until 1 a.m. with a $10 cover charge. For dining reservations, call the Eldridge at 785-749-5011.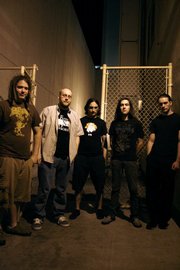 Local rock enthusiasts and metalheads unite: Big Sexy New Year's Eve Party/Huge Metal Show
Other musical happenings downtown include the "Big Sexy New Year's Eve Party" at the Jackpot Saloon and a "huge metal show" at the Replay Lounge.
The Jackpot show will feature bands The Appleseed Cast; Approach, with the Will Nots, and a reunion show from Minus Story. Tickets will be $8 at the door and bottles of champagne will be sold for $12 to cap off the late-night revelry.
Jackpot bartender Brad Shanks says the show should be a very fun one and should not be missed.
"I'm really excited because Appleseed Cast doesn't play around here very much. The Will Nots are a built in dance party, so that'll be really good. And Approach – he's the best in town. It's going to be a great night."
Replay Lounge bartender Cody Ross says there will be a different vibe going on at the bar than most of the rest of downtown, with bands Hammerlord, Troglodyte and Wrath & Ruin performing.
"The entire inside of the Replay will be filled with three of the largest drum kits in the area. We're going to have to move out the seating to fit them in here. Everyone else is trying to have dance parties and stuff, and we're trying to have a huge metal show out here. I think that shows what we're all about."
Some Other Happenings Around Lawrence:
Abe & Jake's Landing:
8 E. Sixth St.
$20 cover charge, includes ten drink tickets and a split of champagne for patrons 21 and over. A DJ will perform. There are room-rate discounts available at Marriott Suites, next door.
The Bottleneck:
737 New Hampshire St.
$10 cover, bands The Floozies, Beans and Cornbread and Inflect performing.
The Cave at the Oread:
1200 Oread Avenue
$40 cover, includes 15 drink tickets and a champagne toast at midnight. Featuring DJ Max Fanning.
Five 21 at the Oread:
1200 Oread Avenue
Special New Year's Eve Menu.
Jazzhaus:
926 ½ Mass. St.
$2 cover for a Reggae Ska Dance Party, with band The Checkered Beat. Vodka Tonic/Miller Light for $2.75.
Johnny's West:
721 Wakarusa Dr.
$20 cover, $30 per couple. Includes two drink tickets, appetizer buffet from 9 p.m. to 1 a.m., a champagne toast at midnight. $3.50 Boulevard and Free State pints, Clear 10 vodka drinks.
Louise's Downtown:
1009 Mass. St.
Cover $5 to see Arthur Dodge and the Horse Feathers and Fourth of July perform, 10 p.m.
Louise's West:
1307 W. Seventh St.
Champagne, party hats, noise makers.
Marisco's:
Sixth St. and Wakarusa Dr.
Five-course New Year's Eve dinner. Reserve in advance, 785-312-9057.
Pachamama's:
800 New Hampshire St.
Five-course New Year's Eve menu. Reserve in advance, 785-841-0990.
Quinton's Bar & Deli:
615 Mass. St.
$5 cover, includes champagne toast. Bacardi specials.
Red Lyon Tavern:
944 Mass. St.
No cover, selling champagne, balloon drop, handing out noise-making devices.
Set 'Em Up Jack's:
1800 E. 23rd St.
Special New Year's Eve Dinner Menu.
Ten at the Eldridge:
701 Mass. St.
Special New Year's Eve Menu.