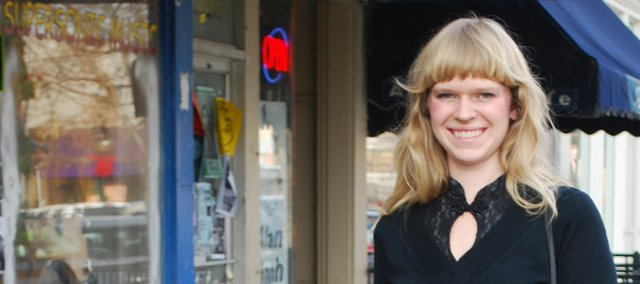 Originally published December 30, 2010 at midnight, updated December 30, 2010 at midnight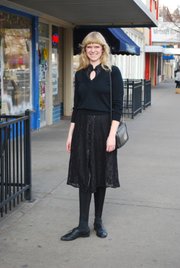 Name: Hannah Zoe Zingre
Age: 22
Sign: Aries
Hometown: Lawrence
Time in Lawrence: 10 years
Occupation: Professional Student
What were you doing when you were scouted? Drinking coffee at Aimee's Coffeehouse, 1025 Massachusetts Street.
How would you describe your style? Thrifty librarian.
What are your current favorite fashion trends? Sheer apparel and lace—they provide an interesting insertion of texture into any outfit.
What are your least favorite fashion trends? Anything that resembles banana patterns, a.k.a. Prada Spring/Summer 2011.
What would you like to see more of in Lawrence? Adapted fashions that are not entirely vintage but instead an updated mix of modern clothing and retro attire.
What would you like to see less of in Lawrence? KU t-shirts and replication. I'd rather see one-of-a-kind jewelry and clothing pieces.
Do you have any piercings or tattoos? 2 tattoos and pierced ears.
Do you have any fashion influences? 1920s—1940s style fashions and the recent collections of Dolce and Gabbana, Missoni, and Vena Cava, especially for their fabulous patterns.
People say I look like… Tom Petty.
Tell us a secret: My 26-pound Main Coon cat Al Pacino runs my house.
More like this story on Lawrence.com