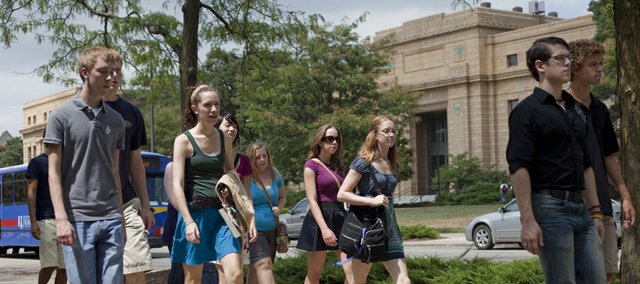 Thursday, December 30, 2010
Another organization agrees — Lawrence is a pretty great college town.
The website Parents & Colleges ranked Lawrence as the tenth-best college town in America.
Any time Lawrence is recognized by an organization as among the best in the country, it's a good feeling, said Lawrence Mayor Mike Amyx.
"The reason it's a good feeling is because of the amount of work put forth by a number of people to make sure the city of Lawrence is a great place to live," Amyx said.
MSNBC picked Lawrence as one of its nine favorite college towns earlier this year.
Parents & Colleges praised Lawrence for its vibrant downtown, its outdoor recreation opportunities at Clinton Lake and friendliness toward cyclists.
"In Lawrence, you can feel that artsy vibe practically everywhere," the website wrote. "In public art exhibits that bring sculpture and mosaic projects to street corners throughout the city, in the Lawrence Arts Center where performing and visual arts come together under one roof, in a live music scene that's light–years ahead of what's playing on the radio."
Here's Parents & Colleges' list:
Austin, Texas
Boulder, Colo.
Madison, Wis.
Berkeley, Calif.
Athens, Ga.
Princeton, N.J.
Eugene, Ore.
Chapel Hill, N.C.
Gainesville, Fla.
Lawrence
More like this story on Lawrence.com