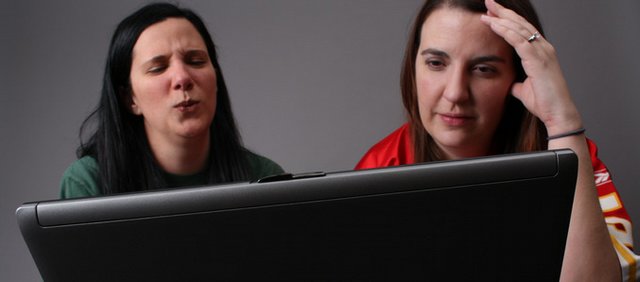 Super Bowl XLIV
What: Indianapolis Colts and the New Orleans Saints, 5 p.m. Sunday, CBS, Sunflower Broadband Channels 5 and 13 and 201 HD.
Where: Sun Life Stadium, Miami Gardens, Fla. This is the 10th Super Bowl played in Miami and the fifth at this stadium.
Attendance: To date, 3,347,608 have attended Super Bowl games. The largest crowd was 103,985 at the 14th Super Bowl at the Rose Bowl in Pasadena, Calif.
Viewers: The game will be distributed internationally by the NFL and NFL International to more than 185 countries and broadcast in 30 different languages.
Players' share: Winners: $83,000 per man. Losers: $42,000 per man.
The trophy: The trophy stands 20 3/4 inches tall, weighs 6.7 pounds and is valued more than $25,000.
— The Associated Press
Ignore the pundits on "Sportscenter" — Gina Byrd has her own theory about why Brett Favre keeps coming back from retirement.
"It could be because he heard that I was loyal every year," says Byrd, who drafts Favre every year for her fantasy football team.
After nine years of playing fantasy football, Byrd has developed her allegiances to her favorite players. Her league mates — all men — often tease her for being so predictable.
"I don't know if this is because I'm a woman or if it's just me, but I tend to pick the same players year after year," she says. "I stuck by (Favre) through the lean years. It turned out to be a good thing this year."
The fairer sex
In the male-dominated world of fantasy sports, it's not uncommon for players like Byrd to be the only woman in their league. The game generally caters to hardcore sports fans who crave competition and get a thrill out of assembling a team that's more dominant than the product on the field. There are multiple online forums to play in for all major sports, but the concept is the same: field a team with the best players and obliterate the competition.
For Byrd, fantasy football offers another rooting interest when the Pittsburgh Steelers have a bad year.
"I wouldn't recommend it for someone who isn't into sports and is just trying to do something with their husband," says Byrd, whose grandfather was an actual steel worker who rooted for the Steelers. "You need to have your own interest and competitiveness to make it really fun."
Byrd plays in a league with her husband, Dave Stadler, fueling her drive to win. One year the couple made a bet that whoever finished lower in the standings would have to clean out the garage.
"I lost, but I'm pretty sure he helped me," Byrd recalls. "There's a lot of trash-talking leading up to the week that we play each other. There's occasional yelling and wishing injury upon each other's players, but we've never actually gotten in a real fight about it."
The husband-wife dynamic can be a volatile one in the world of fantasy sports, especially when one spouse's season takes a turn for the worse. In one scandalous scenario, the spouse whose season is over tries to trade their best players to their mate — who just happens to be vying for a playoff spot.
"We've tried it before, but it didn't fly," Byrd says. "Our commissioner is pretty good about denying those … No inside-trading between spouses is allowed."
All's fair
For every woman who joins a fantasy league to share a common interest with her boyfriend, there's another who enlists to kick her hubby's butt.
Katy Clagett falls into the latter category, having signed up for a fantasy basketball league for the first time this year expressly to challenge her boyfriend, Charles Calhoun.
"It's fun for me to try and be competitive with him in something that he knows so much more about," says Clagett, a junior at Kansas University. "At first he was helping me out, but now it's getting to the point where I'm like, 'You know what? I'm going to do what I want.'"
As a lifetime KU basketball fan, Clagett has made it a priority to have as many Jayhawks on her roster as she can scoop up.
"The more connected to the players I feel, the more I want to watch them," she says. "That's definitely something that fantasy basketball has done for me — I want to watch Allen Iverson, even though he sucks. I'm mad at him. He's 'The Answer' no more."
Local fantasy junkie Autumn Jones gets a competitive advantage on her fiancé, Brian Bishop, by compiling her own statistical spreadsheets. She says that the men in her league tend to be more outwardly competitive, whereas she prefers to quietly go about her business — especially on weeks when she competes against Brian.
"We get very secretive about our plans," says Jones, a supervisor for the Clerk of the District Court and bartender at Conroy's Pub, 3115 W. Sixth St. "It's a great thing to do if you've got a fairly healthy relationship and you can handle all the ribbing that goes along with it. If you don't, it might not be such a good plan."
Especially if you're fighting over who gets to draft Brett Favre next year.