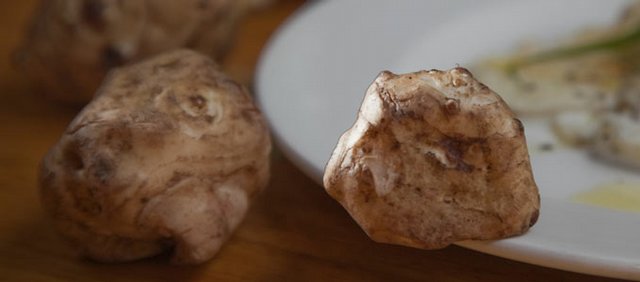 Wednesday, February 3, 2010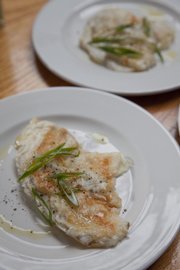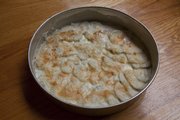 One would think that being the head chef at a successful Lawrence restaurant would mean that Rick Martin would have free rein to use any food he desires when he puts on his chef's coat.
But there's one food that you won't see on the regular menu at Free State Brewery, anytime soon: the sunchoke.
Knobby and gnarled, this root goes by many names, including Jerusalem artichoke, sunroot and sunflower choke. Whatever the name, its taste is always the same: clean and mild, like a water chestnut crossed with a potato.
It's a taste that Martin loves and wishes other people knew about.
"I've been using them for a few years at home, just because I do like vegetables like this that you can cut up, slice up raw and just serve with a little bit of olive oil and sea salt and cracked pepper," he says. "I kind of grew up that way, eating carrots and turnips and rutabagas and radishes and stuff like that, just raw, out of the garden."
But that doesn't mean it's a great fit for heavy use in a commercial kitchen. Martin has tried and decided against using them, strictly because the fun of preparing them at home quickly becomes an undesirable business equation in the restaurant world.
"They're just impossible to get any sort of usable product in a reasonable amount of time," he says. "I'd like to use them more here - but the labor that goes into them and the amount of product that you lose around these nodes as you try to peel them. You have to be really crafty with a knife to be able to scoop some skin out of there with a boning knife if you're going to try to utilize them well."
But that doesn't mean they are impossible to use at home - Martin serves them up like "raw potato chips" as well as in soups, mashes and a gratin (see recipe).
Feeling up to the challenge of bringing a few sunchokes home? Linda Cowden, produce manager at The Community Mercantile, 901 S. Iowa, has a few hints on how to pick the right ones.
"You want to look for ones that are firm and have a good, kind of light color brown," Cowden says, "You wouldn't want any with black spots."
And you wouldn't want to miss out on trying them either, says Martin, even if you've never seen them on a menu.
"(It has) a really nice nutty vegetable flavor," Martin says. "It has a nice crunch."
The sunchoke — What it is
Also known as sunroots, sunflower chokes and Jerusalem artichokes, sunchokes are tubers that look like giant ginger roots. They are native to North America and were brought to the culinary mainstream by the French after their introduction to Europe in the 16th century. The tubers have no roots in the Holy Land, and the name "Jerusalem artichoke" might actually come from a misunderstanding regarding the Italian name for sunflower artichoke, "girasole articiocco." "Girasole" might have been overheard as "Jerusalem," giving the root a misnomer.
Season: High season is in the fall and winter.
Nutrition: 1 cup raw, provides 110 calories, no fat, 10 percent of your daily vitamin C and 25 percent of your daily iron, according to foodreference.com.
How to buy: Buy firm, smooth sunchokes with no soft spots, wrinkles or sprouts.
How to store: According to Aliza Green's "Field Guide to Produce," sunchokes are best stored when wrapped in paper towels and then put in a plastic bag in a refrigerated crisper drawer. They can be stored that way for up to a week.
RECIPES
Sunchoke Gratin
3 tablespoons butter
1 cup whole milk
3/4 teaspoon sea salt
cracked pepper
1-1/2 to 2 pounds sunchokes (depending on how many slices you are able to get)
1-1/2 cups heavy cream
4 ounces Musser's cheese (an aged white Cheddar from Iowa, available at the Merc)
Use a 9-by-13-inche shallow ceramic baking dish or 12-inch circle. Preheat oven to 425 degrees.
In a small pan, bring milk to a boil and remove from heat. Begin peeling sunchokes carefully with a paring or thin-bladed knife. Take time to break off the larger nodes and peel them as well. The smaller pieces will come in handy to fill spaces. Peeling can be tedious, but you will need to keep as much of the interior to ensure having enough pieces. Slice to one-eighth-inch circles by hand or with a mandolin. Store slices submerged in water until needed. The end pieces make great snacks eaten raw.
Coat baking dish with one tablespoon of softened butter, then begin paving the pan with sunchoke slices, overlapping by 1/3. Be creative using various sizes to completely cover the pan. Pour the milk over the slices and sprinkle with salt. Cover with foil and bake for 15 minutes or until slices are mostly tender. Remove foil and let rest to room temperature. While waiting, bring cream to a boil, then remove from heat and add remaining butter. Pour this mixture over the slices making sure that every bit of surface is wet from the cream. Sprinkle on the shredded cheese and return to the oven for 12-15 minutes or until desired browning is achieved. You may need to rotate for even browning. Let rest for 10 minutes then serve immediately with fresh cracked pepper.
Sunchoke and Wild Mushroom Sauté
1/2 pound sunchokes
1 tablespoon olive oil
1 tablespoon butter
1 ounce dried mushroom medley reconstituted
1/4 cup shallots thinly sliced
2 cloves organic garlic
1/2 teaspoon rosemary chopped
1/2 tablespoon oregano chopped
1 tablespoon dry sherry
Salt and fresh ground black pepper
Peel and coarsely chop sunchokes. Place a 6-quart pan over high heat and add oil, butter, mushrooms, sunchokes, shallots and garlic. Stir often until mushrooms juices evaporate and vegetables are browned. Add rosemary, oregano and sherry; stir until sherry evaporates. Spoon vegetables into a serving dish. Add salt and pepper to taste.
Melissa's Sunchoke Salad
3 organic apples (use Granny Smith apples), 1/4-inch dice
1 pound sunflower chokes peeled and 1/4-inch diced, roasted
2 bunches watercress
Garnish
4 organic oranges, zest only
Dressing
1/4 cup rice wine vinegar
1/2 cup canola oil
2 tablespoons whole-grain mustard
3 cups orange juice, reduced to 1 cup
Combine the diced apples, sunchokes and watercress.
In a blender combine rice vinegar and whole-grain mustard. Blend for 10 seconds. Next add in reduced orange juice and blend for another 10 seconds. With the blender on medium speed, slowly drizzle in canola oil until oil and vinegar are emulsified. Season with salt and pepper and hold in refrigerator until ready to use.
Toss dressing with watercress mixture and garnish with orange zest. Serve immediately.
To roast sunchokes: Place sunchokes on a sheet pan in a preheated 350-degree oven for 30 to 45 minutes. Once the sunchokes are fully cooked either toss in the salad warm or cool.
Sunchoke Soup
3 shallots, peeled and chopped
3 cloves roasted garlic, chopped
2 ribs organic celery, medium dice
2 pounds sunchokes, peeled and medium diced
1 quart chicken stock
1 pint heavy cream
1 tablespoon thyme, chopped
1 teaspoon salt
1 teaspoon black pepper
2 tablespoons canola oil
In a saucepan add oil and shallots, garlic and celery. Sauté for 2 minutes. Add sunflower chokes and sauté for 3 minutes.
Add chicken stock and bring to a boil. Reduce to a simmer for about 30 minutes or until sunchokes are soft.
Add fresh thyme and blend with a hand blender until completely smooth. On low heat, blend in heavy cream and return to a boil. Season with salt and pepper and serve.
Mashed Jerusalem Artichokes
3 1/2 pounds sunchokes
1 pound boiling potatoes
1 1/2 tablespoon salt
3 cups milk
3 tablespoons unsalted butter, softened
Peel sunchokes and cut into 2-inch pieces. Peel potatoes and cut into 3/4-inch pieces. In a 5-quart kettle, combine artichokes, potatoes, salt and milk with enough water to cover vegetables by 2 inches and simmer until vegetables are tender, about 25 minutes. Drain vegetables in a colander and return to kettle. With a potato masher, mash vegetables with butter and salt and pepper to taste until smooth. Vegetables may be made 3 days ahead and chilled, covered. Bring vegetables to room temperature before reheating, covered.