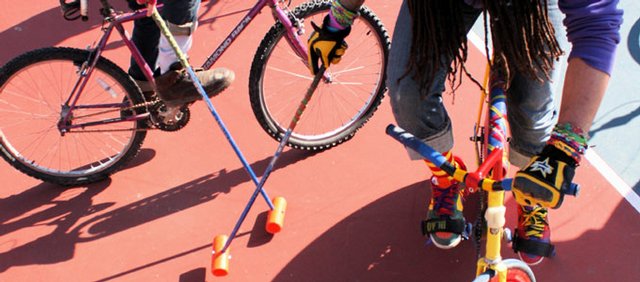 Thursday, February 4, 2010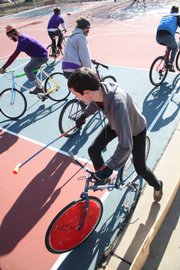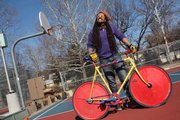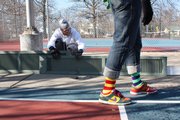 While most sports enthusiasts will be turning their gaze toward Vancouver next week, they should look no further than their backyards for some intense athletic competition.
No, really - if you live near 19th and Louisiana, look in your backyard. You hear all of that screaming and clanging metal? It's Scary Larry Bike Polo, the thrice-weekly meeting at Veterans Park of cycling/bludgeoning enthusiasts. And, for those who love the Winter Games, there's even an ice hazard. Scary Larry regular Matt Brown hit a skid of black ice on the basketball court and went over his handlebars in a recent, below-freezing bout. His elbow was dinged, but he got right back on his steel horse - after a bit of colorful language - and proceeded to swing his mallet like a Ralph Lauren logo come to profane life. Such is Scary Larry.
"Bike-on-bike contact is allowed. Mallet-on-mallet contact is allowed. Body-on-body is allowed. It's all encouraged," says Scary Larry organizer Malakai Edison.
Despite a recent broken arm by one of their players, the Lawrence chapter of the North American Hard Court Bike Polo League (we're in the South Central division along with everybody from Wyoming to the entire country of Mexico) insists the sport isn't that dangerous.
"There haven't been that many serious injuries, but there are always bumps and bruises. I landed on my hip last night, so I feel like I've got a big bruise inside my hip," says Peter Lewis, another of the slightly worse-for-wear organizers of Scary Larry.
Rules and heckling
Bike polo has been around since the 1890s, but its more contemporary "urban" and "hard court" iterations have only gained popularity in the past several years. Games consist of two teams with three cyclists, the matches taking place on repurposed concrete slabs - in Scary Larry's case, the basketball court at Veterans Park or the Riverfront parking garage during inclement weather.
The ball, usually a street hockey ball, is placed at half court. After a screamed countdown of "Three, two, one, polo," a player from each team hurtles on a bike from opposite ends of the court toward the ball. This opening sprint is called the "joust," and if the respective jousters miraculously don't decapitate each other in the jockeying for first possession, the game is on.
From there it's pretty simple: The first team to score five points wins. You score by whacking the ball through two cones using the business end, not the broadside, of your mallet. Only a few rules apply beyond that: 1) Your feet can't touch the ground. 2) If they do touch the ground, you have to leave the game to tap a post at the sidelines with your mallet before you can re-enter. 3) Smack talk is mandatory.
"Trash talking is absolutely encouraged - both from teams playing and the spectators," Edison says.
And the spectators are generally more than happy to comply.
"It's known to be a heckling sport. I think that's the most entertaining thing as a spectator to watch," enthuses Scary Larry super fan Amanda Intravartolo, always on the sidelines to root for her fiancé, Edison. "It's that hockey thing - I hate hockey, but you go to a hockey game with the hopes that somebody's going to throw their gloves down and beat the crap out of somebody else. That's what it's like here. Every once in a while there's blood, somebody falls and there's trash-talking going on. It's fantastic."
Equal opportunity
Lest you think this bloodthirsty pursuit is strictly a boys club, Jacquelyn Meiners would like to disabuse you of that notion.
"I tried it, and at first I was really intimidated being the only girl," says Meiners, who was encouraged by her boyfriend to start playing. "I know some other girls don't play it because they're afraid of getting hurt or they think the guys will be too tough on them. I have some bruises, but it's fun. I love it. I'm not usually a team sports person, but there's something about being on the bikes; you can be aggressive, but it's like the bike is doing the aggressiveness. I feel like me and my bike are a team trying to attack the boys."
Everyone is welcome to participate in Scary Larry's equal-opportunity brand of benevolent hostility.
"On the court, it gets a little intense, but it's all in good fun," Lewis says. "Off the court, you see people essentially making out with each other since they're having so much fun."
It's only been around since last October, but the punishment gluttons behind Scary Larry are confident they can beat in some more recruits for their bike gang.
"At first, it just sounded fun and stupid - we could ride around on our bikes and hit balls," Edison says. "But now, the fact that bike polo is getting pretty big on an organizational level and has a huge online community, it's fun to be part of a worldwide movement. ... I think Scary Larry is going to keep growing and keep getting bigger and badder. I mean, what I would like to see happen is that it gets to be at the same place as kickball over the summer. Bike polo is totally a spectator sport. Lots of trash-talking, lots of people falling down - it's just lots of fun."