Thursday, February 4, 2010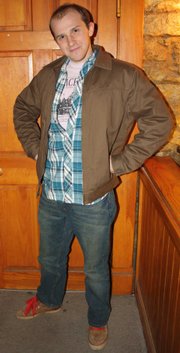 Anson Stancliffe
Age: 24.
Sign: Sagittarius.
Time in Lawrence: 24 years.
Hometown: Lawrence.
Occupation: Full-time KU student in performing arts.
What were you doing when scouted: Drinking Jet Tea and giggling at Henry's.
How would you describe your style: Kansas Boy. We wear jeans and T-shirts. It's a practical, minimal style. I'm a winter person. I like to layer. I also like bright shirts with earth tones everywhere else and cowboy-cut shirts. They're more tailored than other cuts.
What are your fashion influences: Definitely "What Not To Wear," as sad as it is. I stopped watching it because once you've seen it enough, you know what they're going to say. Until I watched that show, I didn't know how to dress for the body. I like '50s movie stars like Marlon Brando in "A Streetcar Named Desire." I would like a '50s-style suit. Also, I love Lady GaGa. I didn't like her until "Bad Romance," which is more developed than her other stuff. I found out she has an impressive résumé. She started playing piano and wrote a ballet at a really young age. She's a performance artist in a lot of ways. She's building a world. Like Andy Warhol, she's becoming her character.
What are your favorite fashion trends: As odd as it is, I kind of like the '80s coming back. It's more tame now. I like the bright colors. And people can enjoy the music now. We grew up in the grungy aftermath. I also like the trucker hat trend. I was already wearing my Boy Scout cap all the time. I wear all my hats crooked, never straight.
What are your least favorite fashion trends: Definitely gaucho pants, those short yoga pants that people wear with Uggs and Crocs. I hate Crocs. There are practical purposes for them, but people just wear them because they're comfortable. 
What would you like to see more of in Lawrence: Dancing. Hipsters need to get over trying to look cool all the time. You're going to land in an awkward pose sometimes.
What would you like to see less of in Lawrence: Freshman car wrecks. I'm a townie and a really non-hateful person, so I don't have many bad things to say about Lawrence.
People say I look like: I think I have a really plain face because I get stopped at bars all the time by people who think I'm someone else. I've even had people of other races say I look like a family member of theirs, and have been told I look like a Japanese TV star.
Tell us a secret: I play Dungeons & Dragons. We play on Thursdays now. Also, I have a girlfriend.
Jacket: Tony Hawk, purchased at Kohl's last November.
Flannel: Urban Pipeline, purchased at Kohl's last November.
T-shirt: Received when I acted in "Macbeth" last October.
Jeans: Urban Pipeline, purchased at Kohl's last November.
Shoes: Gravis, purchased from Zappos.com a year ago.
More like this story on Lawrence.com