Thursday, February 4, 2010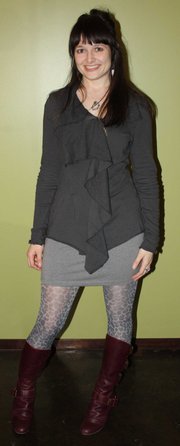 Margaret Perkins-McGuinness
Age: 29.
Sign: Aquarius.
Time in Lawrence: 20 years.
Hometown: Lawrence is where my heart is.
Occupation: Director of museum advancement at the Spencer Museum of Art.
What were you doing when scouted: Celebrating my 29th birthday with family and friends at Pachamama's.
How would you describe your style: I like to incorporate a little bit of "What was she thinking?" into every outfit. I love bold colors and big patterns, although I do have about 30 solid black dresses in my wardrobe. I am also drawn to pieces with architectural or sculptural elements that add something unexpected.
Who are your fashion influences: I love the revival of mid-'90s Betsey Johnson shapes and patterns. I notice that I tend to find inspiration in the eclectic fashion sense and nonsense of other Aquarians. Occasionally I wear suits or ties as an homage to Diane Keaton's enduring "Annie Hall" look.
What are your favorite fashion trends: I really love patterned tights with skirts and dresses. And I love Dr. Martens eight-eye boots in playful colors and patterns.
What are your least favorite fashion trends: I am not a big fan of free T-shirts that advertise things. I don't wear sandwich boards either, for that matter.
What would you like to see more of in Lawrence: I love seeing people of all ages at art exhibitions, events and openings. The more the better!
What would you like to see less of in Lawrence: Right now I would like to see less gray slush on the sidewalks.
People say I look like: Usually Kristin (Davis) from "Sex and the City."
Tell us a secret: Cat Stevens in 1973. That's the whole secret.
Dress: H&M;, purchased in Washington D.C. last summer.
Jacket: Free People, purchased from freepeople.com in December.
Boots: 80%20, purchased from freepeople.com in December.
Tights: Betsey Johnson, purchased last summer.
Necklace: BFF Necklace by Kylie Grater of Early Jewelry, purchased in December.
More like this story on Lawrence.com