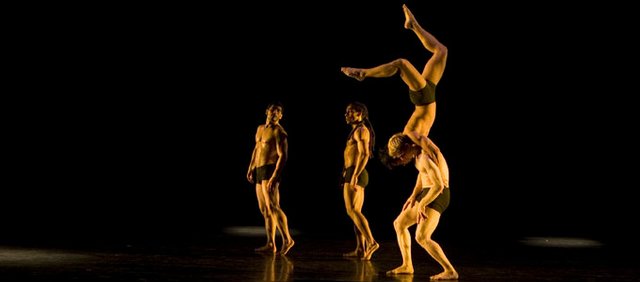 Past Event
Friday, February 5, 2010, 7:30 p.m.
Lied Center, 1600 Stewart Drive, KU campus, Lawrence
All ages / $15 - $30
The irony of his situation is not lost on Jun Kuribayashi. As a dancer who makes his living executing gravity-defying leaps into the air, Kuribayashi spent the entire day recovering from altitude sickness.
What next, Aquaman getting seasick?
"The other dancers and I literally couldn't get up and finish the piece," says Kuribayashi, whose Pilobolus dance company had just performed in Aspen, Colo.
"The first one is really an intense piece - probably the hardest aerobic workout I've ever had in my life. You take that and put it up at 7,930 feet, it just kills you."
Kuribayashi, who grew up in Lawrence, isn't exaggerating about the athleticism or stamina needed to partake in Pilobolus. The 40-year-old company is known for utilizing human bodies to create unusual shapes. These can take on the illusion of anthropomorphic forms, which are often performed in silhouette behind a translucent screen.
"People sometimes think we're just trained acrobats or gymnasts. It's one of the most common misperceptions that we just hire circus people or something like that. It couldn't be farther from the truth," he says.
The Connecticut-based troupe is probably best known for its striking appearance on the 2007 Academy Awards telecast, where members formed various scenes ranging from "Little Miss Sunshine" to "Snakes on a Plane." Appearances on "Oprah," "Ellen" and "Conan" soon followed.
As luck would have it, Kuribayashi got to experience none of those pop-culture highlights.
"During the Oscars, the main company was premiering, and we were still on tour - in Aspen, of all places," he says, noting it was a hodgepodge of current and former dancers who appeared on the telecast.
"When we did 'Oprah,' I had left on a European tour. We usually don't cross boundaries to satellite companies, but they really needed somebody who knew my role while everybody else did 'Oprah.' At the time I was quite bitter, but when you're having fantastic pasta in Bologna, Italy, you can't really complain."
Strong memories of home
Born in Japan, Kuribayashi moved to Lawrence at age 5, and continued to reside in the city until age 25 when he graduated from Kansas University with a degree in dance.
"I still consider it my hometown. I'd definitely like to move back there one day and raise my kids," says Kuribayashi, who still has family that resides in town.
Although he didn't start studying dance at KU until age 22, he was strongly encouraged by a Lied Center staffer to go pro. This led to an audition right out of college with Pilobolus. (Incidentally, the group's name is taken from a sun-loving fungus that's among the fastest accelerating organisms in the world.)
"At the time I didn't even Google them to learn what Pilobolus was," he recalls. "I just wanted to go to New York. Little did I realize until halfway through the audition when I recognized one of the people that it was that crazy company I'd seen at the Lied Center. I thought, 'Oh gosh, I can't do any of that. There's no way I can lift these people over my head for 30 minutes at a time.' I got over that very quickly."
Janet Hamburg, a KU professor of dance, has fond memories of working with Kuribayashi. She calls him an "outstanding student" in her dance improvisation and structured solos choreography classes.
"He created highly innovative studies and was an arresting performer of his own work and in dances by guest artists and KU faculty," she says.
The 31-year-old Kuribayashi also has strong memories of his time studying at the university, which he feels greatly equipped him for a career in the industry.
"I've met a lot of dancers from very strict schools like Juilliard and NCSA (North Carolina School of the Arts). They were mentally abused," he says. "They were always told to lose weight because they were fat. They needed to look at art a certain way. Anything that didn't fit into those guidelines was not dance. At KU that's not what they taught. It was more about follow your heart and dance the way you feel. Your teachers weren't trying to change you mentally. They were just trying to develop your skills in your own way so that you progressed the way you needed to."
Pushing boundaries
While he may never get to meet Oprah Winfrey, Pilobolus has afforded Kuribayashi the opportunity to work with a number of interesting artists. Currently, Kuribayashi is collaborating with Pulitzer Prize-winning comic book writer Art Spiegelman ("Maus").
"It's so rewarding to work with somebody who is so accomplished but so humble. But they are used to working in their own particular way, and when you bring them into our process, it is literally the opposite of how he works. But we always find a way to push the boundaries on both sides," he says.
Having been a full-time member of Pilobolus since 2004, Kuribayashi is now the dance captain in charge of the five-man, two-woman company. (Fellow dancer Winston Dynamite Brown is a native of Kansas City, Mo.)
"We're a company for people who love dance or don't love dance," he says.
"Our rule in the studio when we're creating dances is that if we can see it 1,000 times and we know what we're watching and we're still entertained by it, then the first time you see it you will definitely be entertained."