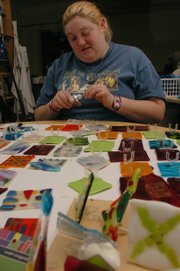 Shop locally for your sweetheart with unique gifts made by local teens in the JAMS after school job-training program. Jewelry, glass, painted objects and much more. All proceeds benefit the JAMS program.


Making its highly anticipated return to the Lied Center, this inventive modern dance company is renowned for its mix of innovation, humor and drama in movement. Drawing inspiration from biology, Pilobolus combines athleticism, grace and humor with a profound sense of unity among its members.
Based on a collaborative and improvisational approach to choreography and a unique weight-sharing process in partnering, Pilobolus has a non-traditional and unexpected modern dance presence that has resulted in a robust repertory and international influence. Check out our full preview of the event.
Jus Marley is a Kansas City-based Bob Marley tribute band that promises to "drop you smack in the middle of a Caribbean beach party." While it seems like at least two of Marley's thirteen offspring pass through Lawrence every year, Jus' Marley offers a similarly authentic taste of the icon of reggae and the sound of Jamaica.
A couple years back, Great American Taxi founding members Vince Herman (Leftover Salmon) and Chad Staehly brought their new lineup and a few special guests into the studio to record the next evolution to their "Americana without borders" brand of music. Filled with electric folk, alt-country, a dash of bluegrass and good ol' rock and roll, the latest version of GAT includes Jim Lewin on electric guitar and vocals, Edwin Hurwitz on bass guitar and Chris Sheldon on drums and vocals.
Mammoth Life's first album "Kaleidoscopic Art Pop" was already completed by the time the seven-piece outfit first hit the stage a few years ago. What began as a collaboration between Nicholas Goss and Elizabeth Mead has evolved into a friendly collective of musicians, artists, filmmakers, poets and clothing designers who share a headstrong vision to craft cheery chamber-pop music and inject a little more sunshine into this crazy, crazy life. The recently hitched Goss and Mead brought two new songs along for our podcast with them last year, which also features half a dozen cuts of their earlier musics. Look out for a more spaghetti-western-tinged sound this evening...
Philadelphia's Hermit Thrushes brings its caravan of atonal indie-rock to town with support from locals Boo and Boo Too and Burger Kingdom.
Hermit Thrushes - Fourth - Fort Worth, TX from Gregg Sandler on Vimeo.
Actor Dylan Paul's booming voice wasn't simply made for the stage-it was made for actual pop music: the kind that Maroon 5 and Justin Timberlake sizzle. It's so catchy that you might hate him for getting it stuck in your head—and that's cool with him, as long as you get on the dance floor. With a big ol' band currently backing him, Paul is on a quest to "get some emaciated, indie-rock-worshiping scenesters to shake their asses."


And new in movies...
A Single Man
Oscar nominee Colin Firth gives a strong, seriously melancholy performance as a grieving gay professor in 1962 Los Angeles, whose life has become meaningless since the death of his lover. Fashion-designer-turned-director Tom Ford's debut is too beautiful for its own good, and ultimately disappointingly simplistic.
Crazy Heart
As a boozing, down-but-not-quite-out country singer, Jeff Bridges delivers another unfussy performance of such depth and truth that you ask, "Why has this man never won an Oscar?" This adaptation of the Thomas Cobb novel is as richly rewarding as a great country song even as it tumbles into overly familiar subjects.
More like this story on Lawrence.com