Saturday, February 6, 2010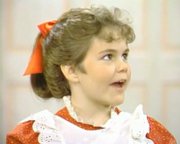 A blogger over at FourFour took it upon himself, in a single sitting, to watch all nine hours of '80s sitcom "Small Wonder" as an exercise in pop-culture masochism. He didn't make it out alive.
A part of him died in the marathon viewing of this show, about a family with a robot girl, and he had to abandon the effort at hour five. Using one bit of '80s nostalgia to reference another, he spiritually died of dysentery in "The Oregon Trail."
You should read his entire write up of the series, which he describes as "wretched," "hateful" and "awful," but through his bloodshot and teary eyes he discovered a noteworthy undercurrent to "Small Wonder." Thankfully he made a montage.
See if you can spot the subtle motif…
More like this story on Lawrence.com