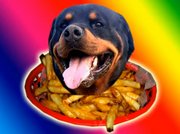 Today might as well be a national holiday. It's a day when we as 'Mericans gather round the TV, eat unhealthy amounts of everything, and drink to the point of conspicuous drunkenness.
That's right…it's Puppy Bowl Sunday!

It's a day when we unite as a country to try and ignore the Super Bowl (except for the commercials and half time show featuring sex offenders).
To celebrate, let's watch a video of a Rottweiler singing about turkey cheese fries.
More like this story on Lawrence.com