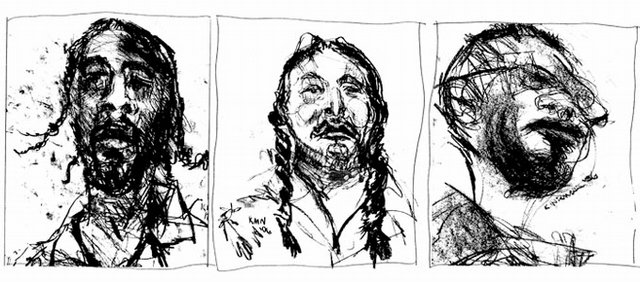 Audio clips
Douglas County inmates read poetry composed in their poetry class
They file into the classroom wearing uniforms of orange, blue and white - for medium, low and work release custody, respectively. It's 1 p.m. Thursday afternoon, time for the men's poetry class, one of the most popular programs at Douglas County Jail.
Fifteen inmates take their places at desks arranged in a semi-circle. On the floor in the center are a box of freshly sharpened No. 2 pencils, several sheets of loose-leaf notebook paper, and a small stack of dictionaries and thesauri.
"There are 23 pencils in that box," Mike Caron, programs director, announces. "I want every one of them back at the end of class. You may not take a pencil back to the pod. If you do, you won't be allowed back in class."
Pods are where the prisoners live. Pencils are potential weapons.
When all are seated and supplied, Caron begins by repeating the class rules for the four newcomers and the regulars who, he says, "tend to have ADD about these things":
• No writing to settle a score or pay back old grudges.
• Disrespect will not be tolerated.
• No writing about other inmates' cases. Don't use the class to air grievances. There's a standard procedure for that.
• No porn, or words like "bitches," "whores" and "snitches." Some profanity is OK, if it's essential to the work.
There will be female inmates walking through the classroom to the learning center during the hour. Act out, and you won't get back in.
With ground rules established, Caron turns the class over to Brian Daldorph, a mild-mannered, bespectacled Brit with a kind face and intense eyes. Daldorph, a Kansas University English professor, has taught the class, without pay, for more than nine years. He never misses a week - not even Thanksgiving or Christmas - unless he's out of the country.
Daldorph passes out writings from last week's session, which he has typed up and assembled into packets. The inmates take turns reading their work aloud in voices ranging from loud and clear to barely audible.
Crazy C goes first: "Šyellow light just makes me see, green light is just for speed, red light is me just as I plead ..."
"Very good," Daldorph says, catching Crazy's eyes. "Nice reading."
Then, it's Tony's turn: "Red lights and green lights, that's all my life has been. Coming and going, always ending up in the same place again ..."
Daldorph takes a beat, absorbing the words.
"Nice work," he says.
Next, a reading from last week's newcomer, DL: "This new room of mine is small and not too spacious. It's cold and not homely (sic). But what am I to do, we'll make the best of it. It's home now for a while ..."
"That's my first poem ever," DL exclaims proudly, at the end.
"I thought it was good," Daldorph replies.
"Me, too. I was surprised," DL says with a wide grin.
After the read-through, Daldorph scribbles several phrases on the board - "something's wrong," "the best thing I ever did," "what really matters," "starting over." He calls them prompts or suggested themes for free writing, the next section of the class.
Caron puts a disc on the CD player: Highlights from the Julian Bream Edition. Faint strains of classical guitar filter through the air.
Daldorph gives few instructions and no rules. For the next 20 minutes, these 15 men - convicted of battery, burglary and attempted murder, among other crimes - are to sit quietly and pour their souls onto the page.
Some inmates write non-stop for the duration, hunched over their desks; others stare into space, searching for inspiration. An older man named Iron Eyes, hindered by vision trouble, gets up and approaches the board within inches, jotting down Daldorph's prompts. A younger man fidgets, his leg bouncing frenetically non-stop.
When free writing is over, it's time to read their new work.
"Starting over as I sit here. In this lonely place only thinking of my dear. As days go by, I can only wait to fly. As I think of the wrong I've done, I can only wish on what I'll become ..."
"Something's wrong. I look around and I can tell. Everyone looks depressed and mad like they're in hell ..."
"Sunday afternoon. BBQs and football. Long walks in the twilight breeze, hand in hand with my little teeze. Actually, she was a sleeze. I really don't miss the memories ..."
"Written in blood success or failure. Highways at sunlight or moonlight sorrow. Death is its name."
After class, some inmates stay behind to explain why they keep coming back week after week.
Four months into a stint for conspiracy to commit aggravated robbery, B.J. says the class helps him connect with others on a deeper level.
"When people write, they write the truth," he says. "They write about what they're going through personally. And when you know that about them, you sort of treat them differently. Maybe you can relate to them, or something."
"Fix," currently incarcerated for parole violation and DUI, had trouble coming up with the two preliminary poems required for entry to the first class. Now, he's nothing less than prolific.
"I'll set in my cell after lockdown and I'll start writing," he says. "If something happened that bothered me that day, I'll write it on paper. I write about my feelings about it, and how someone else might see me through their eyes."
Daldorph, whose book, "Jail Time," is a collection of his own poems inspired by his experiences at the jail, says he receives far more than he gives for his time inside.
"It's a very profound experience," he explains, "and for the sort of work I do - I mean, my great interest in literature - I like to think it has an important social value, and sort of helps us to live our lives. And I think I've seen that most clearly in the work that I do in the jail."
More like this story on Lawrence.com