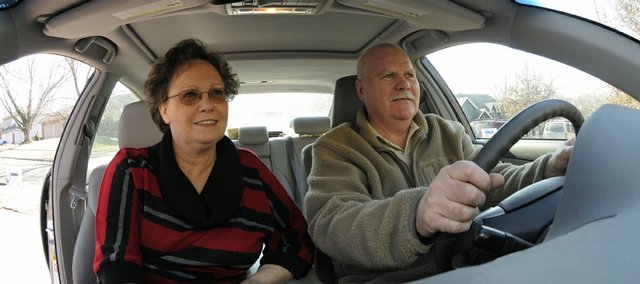 On the street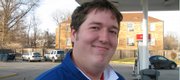 Candi Best's view of the road has gone from the passenger seat to the driver's seat to the back seat. Yes, whenever the Baldwin City mother slides into the car these days, it's usually into the back, right next to her toddler son.
"Surely I'm not the only parent who lets a 20-month-old dictate whether they sit in the front or back seat," she says. "Or am I deluding myself into thinking that's normal?"
In car culture these days, normal is what you make of it, especially when it comes to couples. Many couples still adhere to the '50s sitcom model: Men driving, women in the passenger seat — but that's no longer a given.
Pre-baby, Best was part of what seems to be a trend in driving: Women taking the wheel. In fact, a study proves that coupled folks are sharing the load. A 1,500-person survey by LeaseTrader.com found that 23 percent of women drive on the first date, up 5 percent from just a year ago.
Moreover, Tom Beidleman, AAA vice president for insurance, says because Americans average more than two cars per household, women are getting more opportunities to cart their husbands around.
Tony Sanders, general sales manager for Jim Clark Motors, 2121 W. 29th St., says that in his 10 years in the business, when a couple comes in to buy a car, it most often is a purchase for the woman.
Indeed, Best says that after sharing a car and letting her husband, Brian, drive her around, she bought a car that she loved and suddenly became the family chauffeur.
"I started driving us everywhere, and he was thrilled with that," Best says. "All those years of sitting in the passenger seat and getting annoyed because he was tailgating or driving too slow or switching lanes too fast — I think he was crazy-happy to let me drive so he wasn't nitpicked anymore."
Even older adults are getting into the sharing act, says Pattie Johnston, senior outreach coordinator at the Lawrence Public Library, 707 Vt. Johnston puts on an AARP driving refresher course three times per year at the library and says that of the seniors who sign up, gender is even.
"Looking at the percentages here, I'm pretty surprised myself," Johnston says. "It's a little bit weighted on the women, but not by very much."
Terry and Steve Betzen, both 61 and of Lawrence, took the course because they both thought they needed a refresher — though when they're together it's usually Steve behind the wheel.
"For the most part, the people I know, the man drives," Terry Betzen says before joking about why she thinks that's best. "I think it's smart, because when you've got me and some other woman in the car, we're talking! And I'd rather not have somebody talking and driving at the same time."
Steve Betzen, however, is a bit more frank about why he drives.
"I think it's cultural," he says.
Of course, driving duties depend a lot on the situation, and Lawrence resident Scott Risley has found out that this wet winter equals more time behind the wheel for him — despite the fact that his fiancée, Katie Kirsch, drives a sport utility vehicle and he drives a compact.
"I recently found out if it snows, I drive," he says. "Christmas Eve we went to Kansas City to see relatives, the drive home was horrible, but thankfully my fiancée was more than willing to navigate."
For the Bests, the situation reverted back to the way things had been — with Brian behind the wheel — when Candi developed carpal tunnel syndrome while pregnant. Then, after the baby came, she became accustomed to sitting in the back with him, which has been where she's stayed for nearly two years.
But you won't get any back-seat driving from her this go-around. She spends the time playing with her son or on her iPhone, rather than riding her husband about his skills behind the wheel.
"It's a double win for me. Candi just enjoys her time in the back and is too distracted (or) relaxed to critique my driving habits," Brian Best says. "But I mostly like the sense of control, especially in rough weather. I often boast upon arriving home from a white-knuckle drive through blizzard or downpour, 'I have once again delivered you safely home.'"
More like this story on Lawrence.com