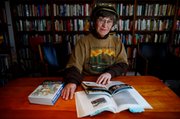 Leaner times have caused many Americans to tighten their financial belts, and one of the first areas of discretionary spending to be squeezed is recreational travel.
Some have stopped traveling altogether, going, instead, on increasingly popular "staycations." Spring break is just around the corner, and if you're feeling the urge to escape the city limits, you might want to take along some cost-saving advice from local travel bugs.
Pam Grout, Lawrence resident and freelance travel writer, shares some of her favorite insider tips.
"A good way to cut costs on airfare is to follow when airlines introduce new flights, because the introductory fares are usually really good," Grout says. "I was reading yesterday about an airline that just started offering flights to Ecuador, and you can fly there right now for just $400.
"You can also save a bunch on lodging by staying in youth hostels, and you don't even have to be a 'youth,'" she adds. "There are some hostels in ski areas where you can stay for ten bucks a night. That's unheard of on the slopes."
Grout says hostels usually offer bunkroom-style lodging where several people of the same gender sleep in one room together, but more facilities have begun to offer private quarters.
If communal living isn't your thing, or if you want nicer amenities than a hostel can offer, you can try your luck bidding for a hotel room online.
Lawrence resident Marsha Buhler scored a big discount on Priceline when she planned a solo trip to visit her son in Phoenix last year.
"I put in what part of town I wanted to be in, then I put in 'five star' and that I didn't want to spend more than $70 a night," recalls Buhler. "I got (a room at) the Gainey Ranch in Scottsdale. Later, I found out a friend of mine stayed there the next week and paid $300."
Local travel lover Caroljean Brune has cut back expenses significantly, due to the economy, but still takes three trips a year.
"We used to fly a lot, but the last time we did that was three years ago when it took a day and a half to get back from New York, and we said 'never again,'" Brune says.
Now, Caroljean enjoys road trips of six to eight days duration, compared to the three-week trips of her past.
"I bought this huge, 800-page book about traveling on America's two-lane highways, which gives itineraries where you can get off the interstate, and travel along this or that trail. We've had some delightful eight-day trips that way."
Brune has cut costs on lodging, too.
"I used to love to stay in historic hotels. Now, we stay in Super 8's or whatever mom and pop place on the two-way highway we can find that's 40 or 50 dollars a night."
Eating only two meals a day can save a bundle. And Grout reminds people to take advantage of coupons and other offers.
"A lot of towns have those dining cards where you buy one (meal), get one free. Even if you pay 20 bucks, you can make your money back on one nice meal."
More like this story on Lawrence.com