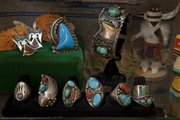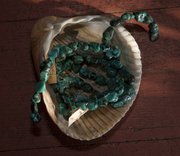 Blue-green necklaces, bracelets and raw stones glint underneath the glass shelving at Blackbird Trading Post. Most are handmade and chock full of turquoise — the stone.
"Interest (in turquoise) is on an upswing again," says Gotfred Beardshear, owner of Blackbird Trading, 8 W. Ninth St. "It definitely runs in cycles. It ebbs and flows, but it seems to be on somewhat of a peak these days."
The stone's popularity could be linked to a high interest in the color: Pantone, a global color authority, picked turquoise as its 2010 color of the year.
"In many cultures, turquoise occupies a special position in the world of color," says Leatrice Eiseman, executive director of the Pantone Color Institute in Carlstadt, N.J. "It is believed to be a protective talisman, a color of deep compassion and healing, and a color of faith and truth, inspired by water and sky."
Annually, Pantone projects which colors will be popular for the following year. To be sure of their choice, a team of specialists travels the world, studying trends, consumer psychology and colors. Pantone then creates standardized color palettes used in the design and fashion industries.
That prediction came as a surprise to Elvira Angeletti, of Elvira Angeletti Interiors, 1015 W. Ninth St.
"It's not an easy color to find," Angeletti says. "I had a couple who wanted a basic turquoise layout, so I collected everything I could find on turquoise, and there's not a lot out there."
She says she does carry upholstery fabrics, draperies and silks all in different shades of turquoise. Angeletti's also has turquoise leather, which is not unusual because leathers tend to be bold colors.
"Turquoise is a good color right now," Angeletti says. "It matches modern furniture and is also a good accent color."
But people tend to use it sparingly.
"A color as sharp and strong as turquoise is typically used more as an accent," says Jane Bateman, of Bateman Interiors. "It would be very hard to live with because it's so sharp as well as strong."
In general, a high-voltage color such as turquoise is best confined to smaller areas, such as a single wall. People brave enough to splatter turquoise onto their walls can choose from several different varieties of turquoise paint.
Colorport Coatings, 2540 Iowa, has colors like ocean trick, trinket and treat, all with blue-green tones. But manager Cecil Barry says turquoise hasn't hit Lawrence yet.
Still, many retail shops, like Blackbird Trading Post, are ready for the trendsetters.
"We're happy to see interest in it again," says Beardshear, "happy that it's reviving and that it's cycled back around."

— The Associated Press contributed to this story.
More like this story on Lawrence.com