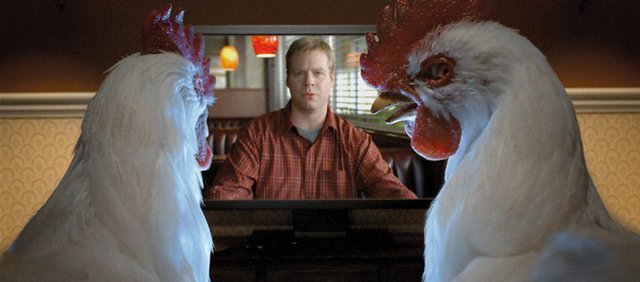 Tuesday, February 9, 2010
Each year, students and faculty from the William Allen White School of Journalism and Mass Communications at Kansas University get together for a review of the Super Bowl commercials. This year's reviewers were student Alicia Facklam, assistant professor Mugur Geana and associate professors Bob Basow, David Guth, Tien Lee and Max Utsler. For the first time, Twitter was used by some of the reviewers to post immediate reactions to the commercials, while an analysis of Twitter traffic provided an insight into larger audience impact.
Individual opinion about the commercials:
Facklam
Men were portrayed as surrendering their manliness to keep their women happy. A Dodge Charger commercial showed its engine's deep roar as "Man's Last Stand." For Flo TV, a sad, spineless man follows his wife through a mall. Time Warner Cable urged men to avoid "wife swoops" because of a slow Internet.
Basow
Recovery was this year's dominant theme — "make the best of a bad situation and it won't be that bad." Anheuser-Busch's spots showed people dealing with an asteroid approaching earth, a bridge out and a wrecked airliner with beverage cart (and radio) intact. A Super Bowl upset helps set the stage for better days ahead.
Geana
Overall, commercials were less impressive than past years. Symbolism, innuendoes and nostalgia seem to be favorite approaches of this year's creative minds; trying to reach older audiences was observed not only in many of the commercials, but also in the halftime show. As a social milestone, some of the ads finally acknowledged that women rule the world.
Guth
A great game with mediocre commercials as advertisers played it close to the vest. This year's commercials looked a lot like last year's. I don't think there were any memorable ads. The Tim Tebow ad — supposedly a controversial advocacy ad against abortion — was so innocuous that most people probably had no idea what it was about. If viewers were hoping to see another Macintosh "1984" ad, they were certainly disappointed.
Lee
The commercials in general: Lots of violence, ageism, sexism, etc., and very little creativity. Disappointing.
Utsler
The hype-created expectations have greatly exceeded the game-day realities. Some take too long to get to their product or company name. That's fine if you're Budweiser, but not-so-fine if you're TruTV. Pop culture references only work if the pop culture reference hits the mainstream. Everyone knew The Beatles in the '60s, the Fonz in the '70s and J. R. Ewing in the '80s. But Mr. Burns from "The Simpsons" in 2010? What was Coca-Cola thinking?
The best and the worst
Deciding which commercial was the best was a daunting task, as each of the reviewers looked at the commercials from different perspectives. Bud Light ads were popular with the student reviewer (Facklam), while faculty appreciated the creative efforts of Anheuser-Busch (Basow), Google (Geana), Dodge (Guth), Denny's (Lee) and the Audi TDI (Utsler).
It was easier to reach a consensus for what was a miss: The Census commercial was considered a major miss by several reviewers, and almost everybody agreed that there was too much underwear display (Career Builder, Dockers).
Although the message was progressive and timely, Geana found Audi's TDI commercial controversial: "Green Police" — Ordnungspolizei (Orpo) was the name of the regular police force during the Third Reich. It was bizarre, to say the least, seeing it used in a commercial for a German brand.
Google seems to have won big with reviewers as their favorite commercial. Facklam, Basow and Geana appreciated the idea and execution: a simple, elegant way of telling a love story through the use of a search engine interface. It was a commercial with a well-defined target audience, a clever use of creativity and visual cues to enhance the brand and elicit an emotional response. Geana, who used Twitscoop.com during the game to analyze in real time the social network buzz created by the commercials, remarked that the Google commercial received the fastest positive response from Twitter users of all those aired on Sunday.
Volkswagen's "Punchbuggy" was Guth's favorite, while Lee liked both Coke commercials. Utsler loved Betty White in the Snickers commercial and the cast of Jim McMahon and Mike Ditka in the Boost Mobile commercial.
Impact of the economy
All reviewers agreed that the economy did play a role in the self-selection of this year's Super Bowl commercials. Names such as Pepsi and FedEx were missed; five foreign car manufacturers aired their commercials, compared with only one American car maker; most ads were for inexpensive brands, products and services. As one reviewer commented, the numbers of actors constrained to act without pants or naked (Megan Fox) could be a further indicator of these tough economic times.
More like this story on Lawrence.com