Wednesday, February 10, 2010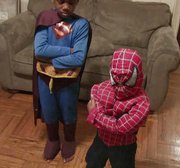 In these dark days, when good men are scared and decent women are debased, justice is hard to come by. Virtue is scarce as the worst amongst us take to the streets. Children cry themselves to sleep and influence peddlers corrupt the halls of power. Permanent night creeps across the land.
Who shall stand against this rising tide of evil? Who will shine as a beacon in this sea of despair? Yes, that's right, L. Ron Hubbard will…wait, no! Definitely not L. Ron Hubbard! What's wrong with you? Shouldn't you be promoting "From Paris with Love," John Travolta?
I don't even remember what I was saying. Oh, yeah…breakdancing Superman and Spiderman will save us all!

Side note: Old people and children dance better than I do. (Via Videogum)
Follow up: Jimmy Fallon reunited this dynamic duo for an on-air rematch.
More like this story on Lawrence.com