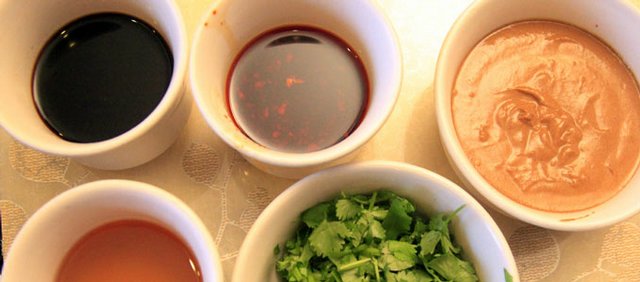 Wednesday, February 10, 2010
Secret loves are the basis for great novels, movies and schoolgirl diaries. Turns out, they can also be the foundation for some really yummy food, too.
For instance, walk into Panda & Plum Garden and you'll be handed a colorful menu with many of the standard Asian dishes with which most Americans are familiar. But, if you happen to be in the know, you can impress your Valentine's date and your tastebuds by requesting a secret menu.
For more than a decade, insiders have been ordering off a special traditional menu separate from the Americanized version most customers see.
Photo Gallery
Secret menu items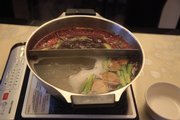 A look at some of the delights on the "secret" authentic Chinese menu at the Panda & Plum Garden, 1500 W. Sixth St.
And the Panda & Plum Garden isn't the only place in town with a secret menu hiding in plain sight. The Thai House has a Korean menu, and while she doesn't have a menu to give out, Nancy Nguyen of The Orient Vietnamese Restaurant says customers order traditional off-menu items.
"A lot of things we don't put on the menu," Nguyen says. "If you put everything on, it'll be too long."
Supply and demand
Panda & Plum Garden owner Lucy White says the menu came together 10 years ago after a chef pointed out that Kansas University students from China might appreciate having traditional dishes like hot pots, tripe and rice porridge. And the number of secret keepers keeps growing.
"Even right now, a lot of KU faculty members or community members get to know our top secret menu now, and they demand the authentic Chinese menu," White says. "Students from KU will bring their advisers or friends and introduce this to them. And so they will regularly request this type of menu now instead of the American-adapted menus."
Despite being word-of-mouth, the menu is so popular that White estimates it accounts for a third of the restaurant's orders.
"We have K-State students who come here. They drive an hour-and-a-half to come here," White says. "We do get people from Oklahoma as well and people from St. Joe (Mo.) who heard about us and came special."
John Soo, assistant manager at the Thai House, says the restaurant introduced the Korean menu a few months ago because of demand from the student population at KU. But he says, it's been the reaction of non-Koreans that has surprised him the most since the menu's introduction.
"Actually, we have quite a few American students who have never had something traditional Korean like black bean noodles, they just say, 'That looks interesting' — they want to try it," Soo says. "It turns out they like it. It's very ... different."
Different and separate
Angel Alvarez, owner of Tortas Jalisco says rather than have a separate menu, he has a section of the menu featuring more traditional items that he rotates once a month. That way, he says, it's much easier to keep special ingredients on-hand.
"It's really hard to have everything handy," Alvarez says. "To do all the things I do for the special menu, I'd have to have too much stuff stocked."
White says having special ingredients on hand isn't necessarily a problem for the Panda & Plum Garden. There, they use many of the same ingredients — kept in separate freezers — just in different ways. For example, both menus feature kung pao chicken, but the two are substantially different, says Helen White, Lucy's daughter.
"In comparison with our regular kung pao chicken, the authentic version has a more peppery flavor, which is popular in the Szechwan province," Helen White says. "It is also served as a 'dry stir-fry' dish. That is, it is not served with the gravy-like sauce that is served with our regular kung pao chicken."
So, why the secrecy? White says in her case it's merely because many Americans aren't expecting authentic cuisine — they're expecting what they're used to. But Karen Vespestad, a longtime customer and frequenter of the hidden traditional menus, says she's done her duty as a longtime customer to try to let others know about the option. She's even gone so far as organizing special-food deliveries during her time as a librarian at West Junior High School.
"When we'd have a stressful day, we would always order from Lucy," Vespestad says. "They'd bring it to us over lunch at noon, and that would always relieve our stress."