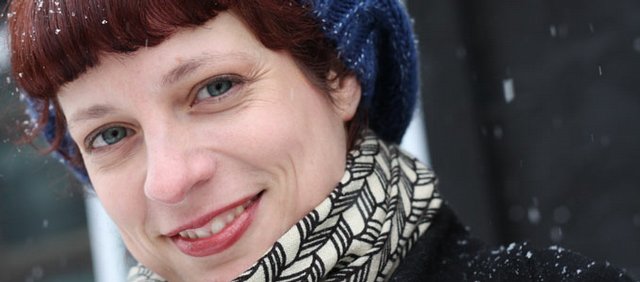 Thursday, February 11, 2010
Anyone taking issue with this year's Grammy Award winners won't get any sympathy from Kirsten Paludan.
"Everybody was so surprised that the Grammys sucked this year," says the Lawrence-based singer and songwriter. "I've got news for you: They suck every year."
Paludan has her finger on the pulse of modern pop music, but not because she's browsing the end racks at Wal-Mart. As the frontwoman for the Kansas City-based wedding band Kokomo, Paludan spends her nights singing hits by Madonna, Céline Dion and Miley Cyrus.
Presently, it's a tune by the latter that's driving her crazy.
"It's good pay, but it's still soul-crushing when you have to sing 'Party in the U.S.A.,'" Paludan says. "You have to learn those songs where you're like, 'Are you kidding me? People like this?'
"I told the guys in the band that this is the last time I'm singing that song."
Producing Paludan
If Paludan is fortunate enough to catch a break in her solo career, Kokomo will have to find a new red-haired siren to sing "Party in the U.S.A."
Paludan's own material is the polar opposite of flavor-of-the-month pop music. It's subtle, sensual and less concerned with delivering a big stupid chorus than wooing the listener with comely melodies that unfold gently. Not coincidentally, Paludan also sings for Kansas City's Olympic Size, a band that put glaciers on its album cover as a commentary on the pacing of its songs.
But just because Paludan doesn't write hits fit for "American Idol," that doesn't mean her music lacks marketability. Paludan recently reconnected with New York City-based producer Joel Hamilton, a former K.C. musician who produced one of 2009's breakout albums in Blakroc (a collaboration between The Black Keys and various rappers such as Mos Def and Ludacris).
"I think Kirsten could really shine in an Imogen Heap or LAMB type of world," says Hamilton, who has also worked with Tom Waits and Elvis Costello. "She has a really great voice, and the songs she writes are unique but still have a pop edge to them that I think could have some mass appeal."
Paludan recently sent Hamilton some demos of new material in hopes of beginning work on the follow-up to her 2006 solo album, "Princess in the Tower." That album's trip-hop-tinged beats and ethereal melodies brought to mind acts like Portishead and Cocteau Twins, though Paludan is just as likely to gush about her love for Joni Mitchell or Neko Case.
Hamilton says he also hears a strong cabaret influence in Paludan's songwriting.
"It's pretty amazing that you can have something that reads as a Portishead record but has vintage burlesque vibes creeping in around the edges," he says. "The challenge would be to present her in the most flattering light possible that doesn't shove her into an easy-listening corner. She can't be presented as an edgy Dido - she needs to be Kirsten, first and foremost."
Olympic trials
During the past couple years, "being Kirsten" became a bit more complicated. Paludan lost her father, Phillip, and her mother, Marsha, suffered a debilitating stroke. Suddenly, the Lawrence native found herself moving back from Kansas City and living in the house that her mom was supposed to retire to.
"It was so weird for a woman that was so active and creative and did yoga every day to be suddenly bed-ridden," Paludan says. "It gives you a different perspective on life and how short time is. You want to seize opportunities when you have them."
When she wakes up with a Kokomo hangover, Paludan brews a strong cup of coffee and plays the piano that her grandpa gave her grandma as a wedding present.
"It's been a really healing experience to come back home again," she says. "I do miss being around all the activity in Kansas City and the shows, but I think it's been important for my growth as an artist and me emotionally to heal after such a crazy time in my life where everything that I knew changed."
Paludan has maintained her Kansas City ties by appearing on albums by friends such as The Republic Tigers, and hosting a weekly singer-songwriter night every Wednesday at The Bulldog.
"I feel good about being able to pay my friends to play music," she says, noting that she occasionally plays but prefers to listen.
Paludan also takes a prominent role in Olympic Size, a K.C. band that pairs her piano and backing vocals with songwriters Billy Smith and Wade Williamson. The band is resuming rehearsals after taking much of 2009 off, and in March they'll perform at the South By Southwest music festival in Austin, Texas.
Built on languishing tempos and evocative guitar lines, Olympic Size presents a stark contrast to its members' other projects, including Roman Numerals, Dirtnap, The Stella Link and Thee Water Moccasins.
"It's the sensitive side of Dirtnap," Paludan says. "I'm inspired by Olympic Size: the idea of rock that doesn't rock."
Sister act
Olympic Size is also scoring a film called "We Will Make You Whole Again," and if that isn't enough to keep Paludan busy, she's developing a musical-theater piece with her sister Kari Paludan (an opera singer based in Washington, D.C.)
"It's a musical memoir about two sisters and the songs that shaped their lives," Paludan says. "Kari will be doing some operatic pieces and maybe some Gershwin, and I'll be doing what I do."
The sisters are working with a screenwriter to develop a script for a show with a working title of "It's All Relative." In addition to availing the sisters' love for Abba, it will tell tales from the Paludan family vault about posing for re-enactment photos and partying at roadside hotels with Hells Angels.
Kirsten still recalls the first song she wrote with Kari in elementary school: a ditty called "Icy Rain." The lyrics, sheepishly recalled by Kirsten, read: Icy rain / Falling softly on my windowpane / It reminds of the days we had together / Cuddled up by the fire together / Now those days are all left behind.
"We still sing it from time to time together," Paludan says. "It's a short little ditty, but it really gets the point across."
Heck, it might even win a Grammy.