Thursday, February 11, 2010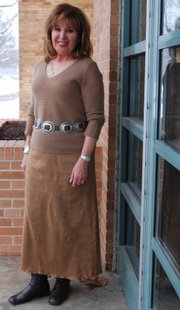 Joy Clumsky
Age: 65.
Sign: Leo.
Hometown: Coffeyville.
Time in Lawrence: 16 years.
Occupation: Writer and teacher.
What were you doing when scouted: I was teaching at Lawrence High School.
How would you describe your style: Southwestern. I like concho belts, turquoise jewelry, suede and leather. I also like classic fashion — like designs by Ralph Lauren.
Favorite fashion trends: In terms of accessories, I like silver jewelry, silver belts and big necklaces. In the winter, I like to wear long skirts with boots.
Least favorite fashion trends: I don't like neon colors or saggy, low-slung jeans — you know, the kind that drag on the ground.
What would you like to see more of in Lawrence: I'd like to see people dress up more. Although I'm a great KU fan, I'd like to see fewer athletic T-shirts and athletic apparel worn in inappropriate settings.
What would you like to see less of in Lawrence: Fewer bars on Mass. Street and fewer tattoos and piercings — perhaps I'm just old-fashioned, though.
Who are your fashion influences: I've always loved the "Annie Hall" look — a bit masculine, but still feminine and quite old English. I also like Audrey Hepburn.
People say I look like: Actress Marlo Thomas, who starred in "That Girl." She could be my older sister.
Tell us a secret: Until I was 15, I either wore my sister's hand-me-downs or had to sew my own clothing, so I became quite the seamstress. I have gabs of portfolios filled with fashion clippings and cutouts — styles I liked or found creative. I even sewed my gown for Miss Lawrence-KU!
Clothing details:
Riding boots: Weaver's, 2009, $50.
Skirt: Spectators, 2000, $70.
Sweater: Isda, & Co., Spectators, 2000, $80.
Bracelet: Mexico, 1990, $40.
Watch: Chicos, 2007, $40.
Earrings: African Adorned, 2000, $15.
Wedding band: 43 years.
Diamond anniversary ring: 30 years.
More like this story on Lawrence.com