Thursday, February 11, 2010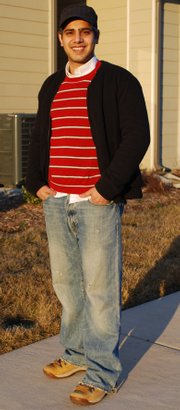 Kunal Bakshi
Age: 30.
Sign: Leo.
Hometown: New Delhi, India.
Time in Lawrence: Five months.
Occupation: Postdoctoral research scientist at KU.
What is your work wardrobe like: Jeans and T-shirts with a lot of holes, since I work with chemicals. In the winter, I cover them up with a nice warm jacket; in the summer the holes look like a style. Having spoiled a number of nice shoes due to chemical spills, I now wear Caterpillar boots in the lab, and they hold up pretty good.
What were you doing when scouted: I was heading home from the macro-molecule and vaccine stabilization lab, where I conduct research. It's located on KU's West Campus.
How would you describe your style: High-end pieces mixed with casual apparel. I generally wear one nice piece (like a noticeable shirt, watch, pair of jeans or shoes) with less conspicuous daily-wear clothing. This highlights my favorite wardrobe pieces without looking too over-the-top.
What are your current favorite fashion trends: During colder, winter months, I am a big fan of leather outerwear, jackets and gloves. I am also saving for a luxury wristwatch.
What are your least favorite fashion trends: Over-the-top rock T-shirts with too much work.
What would you like to see more of/less of in Lawrence: I am sick of winter and very ready for spring! I like more skin, fewer layers. Another thing I'd like-more stores with longer, later hours.
Who are your fashion influences: I do not follow fashion magazines. In general, I am very attracted to the easygoing, "comfortable" look; however, if I do see something intriguing on TV or around town, I keep it in my mind.
People say I look like: I often get "you look familiar" but never a name.
Tell us a secret: I have a shoe fetish! I currently own 26 pair of shoes and counting.
Hat: Banana Republic, December 2009, $20.
Sweater: Express, September 2008, $40.
Dress shirt: J.Crew, January 2010, $39.
Jeans: Abercrombie and Fitch, February 2009, $79.
Boots: Caterpillar, September 2008, $180.
Watch: Seiko, August 2009, gift.
Jacket: Armani Exchange, November 2009, $100.
More like this story on Lawrence.com