Friday, February 12, 2010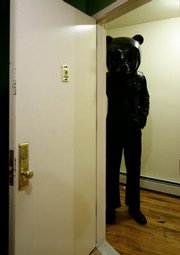 Are you bitter spinster or hateful bachelor? Sworn off love and companionship following a particularly nasty break up? Or just loathe other people to the point where you can never have a meaningful relationship? Does the Valentine's Day weekend fill you with bile and remorse? Well, friend, put down the Scotch and save that fistful of pills for the next time your mother pressures you about grandchildren…have I got just the thing for you!
Lonely hearts and suicide watches, meet your new mascot: Death Bear. It's a community service provided by New York performance artist Nate Hill, wherein he'll come to your place dressed as a seven foot black bear with a menacing plastic head and remove all traces of your ex. He takes all of these would-probably-rather-not-forget-me-nots and puts them in his cave, where they are gone forever. He will clean the crime scene of your heart.
Thanks, Death Bear, for reminding us that Valentine's Day is not just a holiday, but also a day of mourning for us dysfunctional misanthropes!
More like this story on Lawrence.com