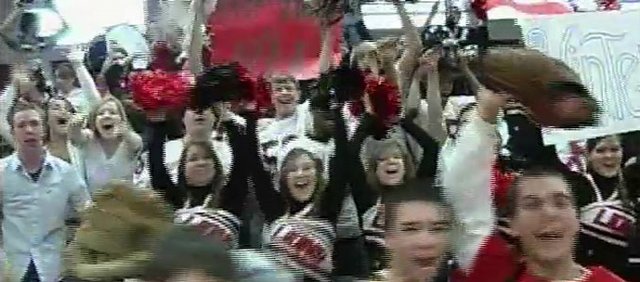 Friday, February 12, 2010
It's never easy to get a diverse crowd of teens to do anything.
So it's all the more impressive to learn about the latest project accomplished by those at Lawrence High School.
More than 300 students became part of a "lip dub" organized by the film and media class of teacher Jeff Kuhr. The term refers to a type of music video that combines lip synching with live theatrical precision, often featuring scores of participants taking turn on lead vocals. The project is traditionally shot in an unbroken take with no edits.
Because Kuhr's class creates the annual homecoming and winter court videos — in which they pick a theme and pair up couples who lip sync to genre songs — he saw this year as an opportunity to try something different.
"A teacher here sent me a link about lip dubs, apparently all the craze in Europe," Kuhr recalls. "My students and I watched a few (that were) obviously done with lots of practice and pretty nice equipment. But also a good example of what's possible: one song, one take."
Kuhr's wife suggested basing the project around "Kids in America," the 1981 rock anthem by Kim Wilde. So Kuhr and student filmmaker Luke McDaneld went about coordinating a labyrinthine shoot ... on paper.
Unlike a big-budget James Cameron production, there was no time in which to gather the entire cast and stage an extensive rehearsal. And since the concept revolved around a single, unbroken shot — think Orson Welles meets MTV — the route and timing became a speculative gamble.
"We had to make sure all the candidates knew their lines, all the other students participating were in the right place at the right time, and for me personally I had to make sure all the camera movements were smooth, and that I was in time with the song," says McDaneld, a senior who will be majoring in film at Temple University.
But what took weeks to organize ended up being only given a half-hour to execute on Jan. 27. Fortuitously, the participants nailed it on the third and final take.
The video premiered during an assembly for the student body on Thursday and was also posted on YouTube.
The filmmakers took their main inspiration from University LipDub, a site which challenges schools from around the world to create a video such as this. The concept began several years ago at the Hochschule Furtwangen University in Germany, where six students recruited classmates to sync along to the peppy Nine Days track "257 Weeks." The result is a truly staggering display of organization and timing.
The Lawrence project is in many respects even more ambitious. Not only is it larger in scale, but it's rendered by a younger cast and crew.
"It was a pretty awesome achievement for a couple of reasons," Kuhr says.
"One, it's a great example of technical skill — one take, blocking, etc. But two ... rather than focusing solely on the 14 or so Winter Court 'candidates,' we involved the entire school — from orchestra to Latin Club to Hip Hop/Step Club to even the Zombie Survival Club — and by doing so, celebrated the entire school and the diversity of our student body."
— Entertainment editor Jon Niccum explores facets of pop culture that have established a unique niche on the Internet in Net Worth. He can be reached at 832-7178.