Friday, February 12, 2010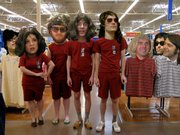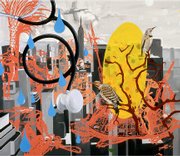 Asteroid Head Art Club is at it again. Their upcoming show at the Lawrence Arts Center, 'Welcome To Asteroid Head Land... Dude', is a tacit invitation to escape everydayness, at least momentarily. Clad in matching uniforms they have set aside the lone artist in the studio art production model for something a little more tribal, a little more exuberant. Collaboration is at the heart of their work, often a multitasking of painting, sculpture, printmaking and performance.
This group exhibition is designed to explore many mediums and approaches to art, all under the umbrella of the theme of place.
Participating artists include: Armin Mühsam, Chris Mateer, Ke-Sook Lee, Dylan Beck, Norman Akers, Mike Sinclair, Daniel Coburn, Celia Smith, Matt Needham, David Vertacnik, Laura Nugent, Yuri Zupancic, and Heather Smith Jones.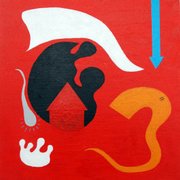 Keshav Ramaswami is a junior at Shawnee Mission East High School who was born in Lawrence. His current Influences include Wassily Kandinsky, Paul Klee, and Joan Miro. "Objects" is an a conceptual series that explores placement, color, texture, and size of forms that includes a tapered figure, a circle, and a diaphanous line. "Presence" is a series of works composed of arrows, definite rectangles, indefinite quadrilaterals, faded textures and free-form circles.
Tonight's opening reception features a musical performance by the artist and his band.
Baba Kahn is a distinguished Canadian club DJ whose R&B; and Bhangra-influenced tracks made waves via his series of "Culture Shock" compilations. Kahn and his 747 Records crew are bringing Montreal-based R&B; singer Sunny Brown on the road for their latest bender.
It's been more than a decade since Brody Buster was anointed a harmonica prodigy and dished props from the likes of B.B. King and Jay Leno. Now that he's done grown up, Buster is a decidedly different personality - one who favors rock and roll as much as the blues. His band featuring bassist Chris Handley and drummer Tommy Dimmel gigs relentlessly, loosening up crowds with fiery originals and a deep list of covers. Be sure to check out our podcast interview with Brody.
Opener Sons of Great Dane are a twangy pop-rock band from Kansas City reminiscent of acts like Slobberbone and The Old 97s.
Shadowbox #1- Brent Windler from Gnarly Enterprises on Vimeo.
Ranging from tuneful indie folk to jubilant pop-rock, Lawrence's Fourth of July is one of Lawrence's most consistently awesome bands. The group will soon release the follow-up to its well-received debut album "Fourth of July on the Plains."
On the heels of their Louvin Brothers tribute record "Wars and Tornadoes," Drakkar Sauna latest release — "20009" — finds them returning to established Sauna subplots like spears, space, and old people. The music is less old-timey and more present-timey, rife with blaring trumpets, barroom piano tinkling, regal harmonies, and sing-along melodies. Listen to our podcast preview of "20009" with Drakkar Sauna.
Kansas City's The Caves play tuneful and melancholy folk-rock that will make you sway and smile and maybe hold hands with a stranger.
The Shadowbox #1- The Caves from Gnarly Enterprises on Vimeo.
Lawrence's most reliable fuser of alt-country and grunge sounds is rolling out new singles via its website. The group's new album "Hello Amero" is also available for streaming or pay-as-you-please download.


And new in movies...
Broken Embraces
A movie director (Lluis Homar) falls in love with his star (Penelope Cruz), who is the mistress of the industrialist financing his film. A melodrama painted in the hues of a Bollywood musical, "Broken Embraces" is Pedro Almodovar's homage to Hitchcock's "Vertigo," that moody account of obsessive love and double lives.
The Wolfman
Despite a first-rate cast led by Benicio Del Toro, Anthony Hopkins and Emily Blunt, a classy re-creation of late-Victorian England and commendable respect for Lon Chaney's 1941 original movie, this werewolf movie is more a yawn than a scream. The tone adopted by director Joe Johnston is oppressive to the point of suffocating.
More like this story on Lawrence.com