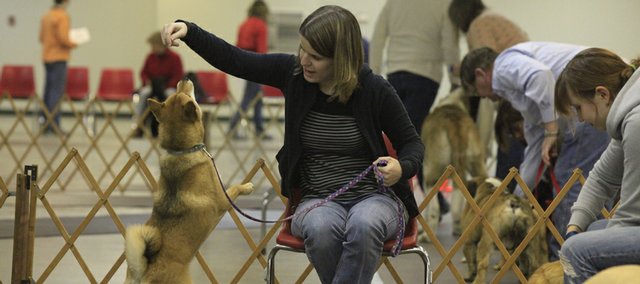 Saturday, February 13, 2010
It's the first day of school, and the students are skittish.
Some cling to their mommies. Others cower in the corner. Some snarl suspiciously at their drooling, panting or barking peers.
Welcome to Wednesday night at the Douglas County Fairgrounds, where humans and canines convene in chaos for a common purpose: to train and be trained.
Ah, but who is training whom?
Jane Tusten of Lawrence has taught classes for dogs and their owners through the Lawrence Jayhawk Kennel Club for over 35 years. She says the education is geared more to people than pooches.
"What we try to do is show the dog owner ways to deal with problems so that it will not only work with this dog but maybe the next dog down the line," Tusten explains. "We're training you to train the dog."
To that end, the club offers a variety of programs for dogs of all ages and experience levels.
Puppy Kindergarten, for dogs 3 to 6 months of age, emphasizes social skills and training that is specific to young pups.
The Canine Good Citizen class, for "teenage" dogs 6 months and older, reviews behaviors learned in Kindergarten while adding the beginning steps in training responses to "sit," "down," "stay" and "come" commands.
Structure and boundaries
Marsha and Chris Haufler and their dogs, Chloe and Dory, are veterans of the program.
"Chloe is a graduate of Canine Good Citizen I and II," Marsha boasts, proudly.
And Dory?
"Dory has perfect attendance," she says, with a laugh. "She did not pass Canine Good Citizen I. That's why we stress her attendance."
Jeanie Kaeberle, Lawrence, enrolled Ava, her 9-month-old golden retriever, in Canine Good Citizen after a successful experience in Puppy Kindergarten.
"I think it's important for dogs to have good structure and boundaries and understand how they're supposed to behave," Kaeberle says.
After a dog graduates from Puppy Kindergarten or Canine Good Citizen, he or she can participate in more advanced classes.
"Fun and Games" introduces exercises that explore agility, scent work, obedience and tricks that stimulate the animal mentally and physically.
"Rally" classes teach a fun obedience sport, promoting teamwork between dog and handler, using signs to guide the team through a course of different activities.
"Conformation" is a training class for purebred dogs who will be shown in breed ring competition.
Happy dog/happy owner
"Dogs aren't born knowing what we want them to do," Tusten explains. "And if we don't take the time and make the effort to let the dog know what's acceptable and what's not, then how are they supposed to know?"
Experts say training should begin during the puppy phase for best results.
"Having a puppy is like having a new baby," Tusten says. "It takes lots of time and lots of patience. They don't raise themselves and if they do, you're not going to like what you get."
But, can you teach an old dog new tricks?
"Absolutely," Tusten answers. "The problem is if the dog has practiced doing something — like counter-surfing or chewing on shoes — for a longer period of time, it takes longer to get them out of it. They've got that behavior firmly ingrained, and they really don't want to give it up. But you can do it."
More like this story on Lawrence.com