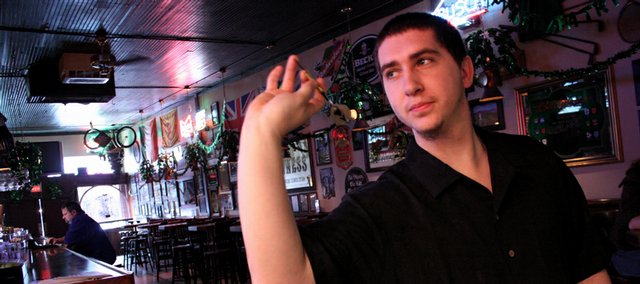 Monday, February 15, 2010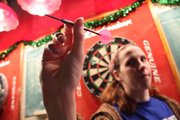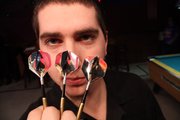 Past Event
Saturday, February 27, 2010, 11 a.m.
Conroy's Pub, 3115 W. Sixth, Lawrence
Not available / $5
Lawrence Dart Association Singles League
The League will start up at 7 p.m. Thursday and continue weekly at Conroy's Pub, 3115 W. Sixth St.; Paddy O'Quigley's, 200 McDonald Drive; The Red Lyon, 944 Mass.; Rick's Place, 846 Ill.; and West Coast Saloon, 2222 Iowa.
Cost: $2 to enter, cash prizes
Darts — they're not just for your lawn anymore! As it turns out, you can throw pointy pieces of metal at circular targets from the comfort of your local tavern or pub. In fact, the sale of lawn darts has been illegal in the United States since 1988, so bowless archery of the indoors variety is kind of your only option nowadays. Granted, there's far less opportunity for grievous head injuries in non-lawn darts, but that's not to say you can't have fun with the pint-sized variety — emphasis on "pint."
"It is the kind of sport where you can hold a beer and a cigarette in one hand and throw your darts with the other," says Erin Adams, one of the organizers of the Lawrence Dart Association and 14-year veteran of the league. "You can have a good time out with friends. Steel tip darts are free everywhere you go, so it's easy to play."
And for nearly 30 years, the Lawrence Dart Association has been hitting that bull's-eye of bar-themed fun.
"Everything is open to anybody. Don't think you have to be the world's greatest dart thrower to come out here and throw darts," says Lawrence Dart Association president Mike Walters, whose grandparents founded the league. "Everybody is here for fun. It gets competitive, and everybody wants to win, but we're here for fun. Any skill level is welcome — if you're a new thrower, I'd love to see you out here."
Spring season
The Lawrence Dart Association consists of 10 teams and a fluctuating roster of between 50 and 60 players who compete in two, 12-week seasons every spring and fall. Despite the snow still on the ground, the "spring" season is already under way. Regular league play is every Monday night at The Red Lyon, Rick's Place, Astro's, Conroy's, West Coast Saloon, Harbour Lights and Paddy O'Quigley's. While they insist darts is indeed a sport and might chuck something sharp at you if for belligerently suggesting otherwise, they confess it's a low-impact activity with just as much emphasis on camaraderie as on competition.
Monday night's regular team league play, and especially the soon-to-be-added Thursday night singles league, encourages stragglers and pickup games.
"You can just show up on Monday nights," Walters says. "There are always teams looking for subs, there are always new teams forming — we're about to start a singles league, so if people are interested and don't want to play on a team, you can show up on Thursday nights."
Couple rivalry
Although, as with most sports — and in fact with most everything in life — it's more fun with a partner. And ladies, it's so easy even your boyfriend can do it! But will it add strain to the relationship when his frail ego is shattered by your steady arm and laserlike precision?
"No, not when we play against each other," says Adams of competing against her boyfriend. "We typically have more trouble when we play together, because he's been playing now for seven or eight years, which is how long we've been dating. I've taught him everything I know, basically. But still, if he has trouble or his strategy isn't what I would've done, I tell him and he's like, 'I know what I'm doing!' He gets mad.
"But if we're playing against each other, then there's no me trying to help or him trying to help, so there's no anger. It's like telling a baseball player how to hit a ball with a bat, like, 'Don't you know what you're doing?'"
Intercouple strain may be soothed slightly with the knowledge you can destroy your relationship for charity, thanks to the Lawrence Dart Association's frequent benefit tournaments. The tournaments, such as their annual St. Patrick's Day benefit, are held at bars throughout the city and raise funds for everyone from the Lawrence Humane Society to Women's Transitional Care Services. Whatever your aim, be it charitable or social, the primary target of association is always a good time.
"Most of the people who play darts in the Lawrence dart league are really fun and easy to get along with," Adams says. "It is a competition, and it's a very competitive game, but most people don't take it so seriously that you'll lose any friends if you beat them. We do give out awards at the end of each season. Plaques for Best Player, Best Team — people are playing for fun, but they're still playing to do well. It's just fun to do. Good people to be around."
More like this story on Lawrence.com