Monday, February 15, 2010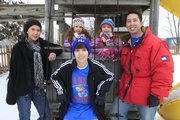 Past Event
Friday, February 26, 2010, 6:45 p.m. to 9:30 p.m.
,
Not available / $20
On the street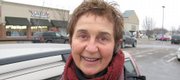 Michael Boulton admits that being a father to his five children — ages 5 to 15 — often means he's not doing what he wants to do.
"To put it as simply as I can, it's about denying yourself almost constantly," the Lawrence resident says. "I used to play a lot of golf. I used to go skiing. I used to play recreational basketball — do things for myself. As my family grew, things just fell off. My golf clubs are just accumulating dust."
And he wouldn't have it any other way. Coming to accept that self-denial, Boulton says, was one of the first steps he took to being a better father.
The 41-year-old will be looking to further his fathering skills more when he attends the Savvy Dads Conference Feb. 26-27 at Grace Evangelical Presbyterian Church, 3312 Calvin Drive.
Savvy Dads is a Topeka-based organization devoted to promoting responsible and effective fathering.
Rick Pratte, director of congregational life at Grace Evangelical and conference organizer, says though Savvy Dads is a Christian-based organization, anyone can benefit from the event's teachings.
"We believe that the issue of fathering is a real-core issue in our society and the church, no matter what brand or label you hold," Pratte says.
The featured speaker at the event is Ken Canfield, an author, founder of the National Center for Fathering and former Kansas gubernatorial candidate. He is director of the Boone Center for the Family at Pepperdine University.
Canfield says Friday night's discussion will be for fathers and mothers and will focus on the importance of a strong marriage in raising children. Saturday's events will target fathers.
Canfield says the first step in becoming an effective father is coming to terms with the relationship between a man and his own father.
"You chew up the chicken, spit out the bones and figure out, 'What do I need to do differently?'" Canfield says.
Much of effective fathering can be boiled down to two principles: making time to be with children and seeking resources — such as older fathers to use as mentors — to be a better dad.
"Forgo promotions — you don't have to own every widget or company in your space," Canfield says. "You don't have to have every degree. Take a secondary role (at work) in the fathering years, and you'll be a happy guy."
Other topics will include developing effective communication and limiting children's exposure to harmful media. Though he often works with dads in inner-city Los Angeles, where some fatherless children turn to gang violence, Canfield says the same principles apply in the Heartland.
"The ambiance of the Midwest is that families have always had a high priority," he says. "But you can't take it for granted. Just because you're in a slower pace and maybe not in as stressed an environment economically, family doesn't just happen automatically."
Pratte says many of the principles discussed in the conference are general, with fathers needing to determine how those principles fit into their own lives.
"Our society is about, 'What's the silver bullet?'" Pratte says. "They're not going to get that. They'll have something to make them think about. There are no exhaustive answers to anything we talk about."
Boulton is hoping to re-energize his fatherly spirit by attending the Savvy Dads Conference.
"It's important for me to know there are other dads in this fight," Boulton says. "There are other dads sacrificing what they want to do to be involved in the lives of their kids."