Tuesday, February 16, 2010
Past Event
Tuesday, February 16, 2010, noon
Downtown Lawrence, Lawrence
All ages / Free
Audio Slideshow
Mardi Gras in Kansas parade on Mass.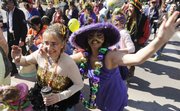 Relive the EXPERIENCE with our audio slideshow flash gallery!
Audio Slideshow
Mardi Gras in Kansas Parade: Part Deux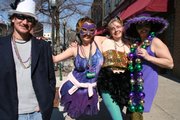 Let's just get one thing out there up front: "Mardi Gras is not boobs and beads. That's Bourbon Street schlock."
So says Katie Euliss, co-organizer of the Mardi Gras in Kansas parade. What Mardi Gras is, though, depends entirely on the community, she says.
In Lawrence, Mardi Gras seems right at home, with several hundred participating in just its second parade last year. The third annual parade starts at noon Tuesday downtown.
"It's not just a spectator thing," Euliss says. "The parade is everybody's -- everybody owns it. You don't have to sign up, you don't have to pay, you don't have to build anything or do anything other than show up and be part of it. It's up to everybody individually to find their inner freak."
That spirit comes straight from parades in Mardi Gras' American hometown, New Orleans -- which, until five years ago, was the hometown of Euliss and Mike West, her husband and parade co-organizer.
Their home was destroyed in 2005 along with the rest of the Ninth Ward by Hurricane Katrina. That August, the two were on the road touring as the bluegrass/psychobilly duo Truckstop Honeymoon. They found out for sure that their home was gone when they saw their block's street sign all but submerged in water on the cover of The New York Times.
They had ties to Kansas through music and soon decided to move their family (now four kids strong) to the Pinckney neighborhood. The transition was challenging as it was, but their first Mardi Gras in Kansas was a difficult reminder that Katrina had washed away a huge community of people that they'd long celebrated with. And with no existing Mardi Gras tradition in Lawrence, there would be no parade.
"The first Mardi Gras here was just depressing. We didn't know what to do," Euliss says. "We moved in in November. We didn't know anybody, so who were we going to call? We didn't know there'd be anybody who played horns in Kansas. It turns out there are a whole bunch of people."
In 2007, they were on tour in February, but by Mardi Gras 2008, they knew all kinds of people in town and were plugged in to Lawrence's music scene.
"So we just decided to see what happens if we try to do a parade," Euliss says. "We did it just to raise our own spirits. We figured 10 people would march down the street if we were lucky."
In the weeks leading up to Fat Tuesday, Euliss and West invited Lawrence musicians they'd met over to their house to practice traditional New Orleans tunes. Their plan was to march down the Mass. St. sidewalk in costumes playing Dixieland jazz, ducking into some businesses along the way.
What they didn't plan on was rain -- all day long. West said they got up, saw the miserable weather and assumed nobody would show up.
"So we stayed home," he laughs. "Then we get a call from Aimee's Coffeeshop (where the parade was set to start) asking, 'Hey, where are you guys?' Everybody had showed up -- it was just fantastic! There they were waiting in the freezing rain. It was just awesome."
Seems Lawrence was ready to get its inner freak on. Some 50 diehards were anyway. Last year's weather was more forgiving, though.
"It was 70 degrees and beautiful outside," Euliss says. "There were 300-plus people and it was thumpin'. People were in costumes and there were tons of kids, and it just gave people a day to celebrate in the middle of winter."
There are no official floats in this parade, no official king or queen, no official anything -- just anything big and freaky is great. "Everybody that joins in adds to it and makes it that much more wonderful. Decorate your stroller and push your kid down the street wearing a pair of horns or something. Anything," Euliss says.
West adds that knowing the songs is hardly a requirement for joining in the music: "Bring a kazoo, bring a guitar, whatever you like to play and just fake it and holler and do your best and by the end of the road you might know a couple tunes," he says.
Last year was Jake Wagner's first Mardi Gras in Kansas, but he'd celebrated five of them in New Orleans while going to school there. He says it's a particularly Lawrence version of Mardi Gras, but that West and Euliss have helped instill the essential spirit in the parade.
"It's the participatory spirit that's required for Mardi Gras," Wagner says. "You are the show. You're not going to watch the show, you're not going to get your box of popcorn and sit on the curb -- you're going to put the box of popcorn on and that's your costume," he says.
"Mike and Katie are great because they are sharing what they learned to love in New Orleans with Kansas and the world. Plus, Mike looks good in a tutu."