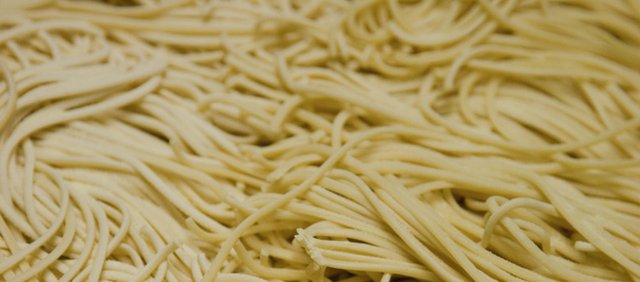 Wednesday, February 17, 2010
There's a surprising weapon in the fight for your Lawrence restaurant dollars, though we wouldn't advise using it in any battles but the non-physical kind. It spans many cultures, dinner budgets and chef-approved flavor profiles.
The noodle.
Restaurants from Asian to Mediterranean to American and at least one that combines all of the above - Noodles & Co., we're looking at you - are hoping to get you in their doors with yummy noodle-based creations. In fact, the noodle has stolen prominent spots on the menus of at least three recently opened Lawrence restaurants with very different business plans and price points.
Among the newest to go the noodle route are two locally owned restaurants: DonDon: Japanese Rice and Noodle Bowl Shop, and 715, a restaurant specializing in central Italian cuisine at 715 Mass. And then, of course, there's Lawrence's newest chain noodle shop, the aforementioned Noodles & Co., which serves three basic noodle types: Asian, American and Mediterranean under the same roof.
The noodle is in, and during this unrelenting winter and tough economic climate, it's easy to see why.
"Food is especially one of the smallest pleasures that people can afford during the bad economy," says Angela Liu, manager and daughter of the owners of DonDon. "Every once and a while you want to get together with your friends or family and (have) something simple, something warm. And comforting food is what we kind of think Lawrence needs."
Noodle-don
And what DonDon thinks Lawrence's restaurant scene was missing was Japanese fast food. The shop, which opened in mid-September, is modeled after the lightning-fast noodle and rice bowl stalls in Japan, birthplace of Liu's mother and owner/head chef Ikuko Fox.
The result is a menu made for high-speed eating: four noodle bowls, eight rice bowls and a few other options, all lined up on a ballot-style order form - the complete opposite of sitting at a sushi restaurant waiting for an elaborately prepared specialty roll.
"Normal Japanese food in the area, they serve more expensive things like sushi or teppanyaki, where they cook in front of you," Liu says. "And so, we decided to try to go for a different kind of home-cooking flavor."
The noodle of choice at DonDon is the udon noodle, a thick, wheat-based noodle served in broth as a sort of soup. Liu says the family took stock in what other restaurants were doing and noticed a decidedly scarce Japanese noodle market.
"Japanese noodles weren't very emphasized, even in Japanese restaurants, they were kind of put there as a 'well, we have to have some noodles,' kind of thing," Liu says. "So we decided to focus more on the rice bowls and the noodles."
Biology of a noodle
Indeed, of the assortment of noodles in town, most tend to be of the Mediterranean distinction, though because noodles are cross-cultural they can be made with a number of ingredients from wheat, rice, potatoes, mung beans, buckwheat and even acorns.
At some restaurants, like the upper-scale 715, the noodles are hand-made daily in-house - a point of great pride for Matt Lawson, sous chef at the restaurant, which opened in mid-October.
"We make all of our pastas from scratch every morning," says Lawson, who says no day-old pasta sees diners' plates. "I think that's what sets our noodles apart from places that are probably Cryovac-ed in a bag and dunked in a pot of water."
Indeed, Lawson and his crew make all sorts of shapes and types of pasta from a simple recipe: flour, water, local eggs. From that basic dough they can make everything from a cylindrical penne noodle to a fancy filled ravioli.
"There's a 'spaghetti & oil' on the menu that's literally five ingredients ... and three of them are in the pasta," Lawson says. "You can't get any more simple than that."
And Lawson says diners are noticing.
"The pasta sales, they're always up there, especially on the weekend nights," Lawson says. "On a Friday night or a Saturday night when there's a basketball game, we sell a lot of pastas and that's because I think people equate it with being quick and good and homey."
Noodle Goliath?
From that description, it's easy to see why Noodles & Co. decided to expand its Colorado-based franchise to Massachusetts Street, opening its first Lawrence restaurant just a month after 715 opened its doors on the same block.
"It just made sense for our brand," says Jill Preston, corporate communications director for Noodles & Co. and herself a Kansas University graduate. "We'd actually been looking at Mass. for a long time, and when the real estate opportunity came up, we just knew that the Lawrence community and the students would like the concept."
The concept is noodles of all stripes under one roof - from "Wisconsin mac & cheese" to the penne rosa to Japanese pan noodles.
"We try to eliminate the veto vote," Preston says. "We have Asian, Mediterranean and American dishes, and they're all very reasonably priced."
Liu knows that those should be fighting words in this particular culinary scrum, but she says may the best noodle win.
"I really believe that our food is really good," Liu says. "So, I hope that even though our options aren't as great ... there's something in there for everyone."