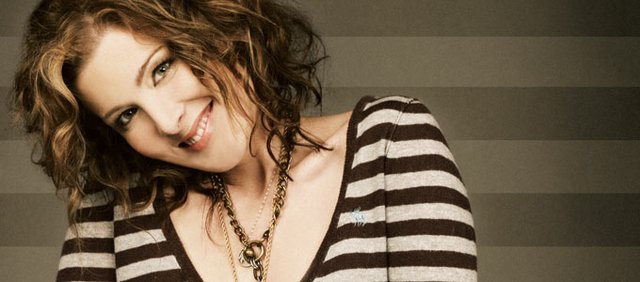 Thursday, February 18, 2010
Sarah Buxton is squealing.
It's the sort of high-pitched, tea-kettle squeal that girls make in diamond-ring commercials when they realize their best friend's hubby "went to Jared."
"Oh my god, it's sooo cute. I love it!" Buxton exclaims via phone from a Nashville studio (here's a corresponding twitpic of the moment). "Oh my god - it's wrapped! It says, 'Features your favorites "Outside My Window," "Innocence" and "Stupid Boy"' — You're going to be able to go to Hastings and buy this!"
Buxton is ripping open a copy of her debut album, and the magnitude of the moment is finally settling in. Five years ago, the Lawrence native signed a record deal that she presumed would land her a string of platinum hits. What followed, however, was a mess of false starts and frustrating delays.
"I've been around struggling so much that I'm like the kid who can't swim," she says. "Everyone's like, 'God, somebody help that kid get to the side!' That's been me Š Name another artist that you know of that's been signed for five years and hasn't had a record out. I might be the first, and I'm very happy to be it."
'Shine All Night'
Now 29, Buxton is more than a decade removed from graduating from Lawrence High School and moving to Nashville to chase down her dream.
Even if her long-anticipated album on Disney's Lyric Street Records never saw the light of day, she could still boast of remarkable achievements like writing a hit song for Keith Urban ("Stupid Boy") and singing on records by Kenny Rogers and Dierks Bentley. She even earned two Top New Female Vocalist nominations from the Academy of Country Music - further proof she'd forever be labeled as a rookie until she emerged with a record of her own.
"There were definitely times when I doubted whether it would come out," Buxton says. "I was just miserable because there was no synergy on my team. The communication that happened was kind of random and not forward-moving. Now I feel like my manager listens to what I say and really gets wrapped around what it is I'm looking for. She's taken a lot off my back."
On Tuesday, Buxton's self-titled album will be street legal. It's good timing, as she's currently opening a string of dates for country megastar Martina McBride.
"Sarah is a talented artist, and I love her voice and her writing," McBride says via e-mail. "Plus, she's a Kansas girl like me, so I'll do whatever I can to help her out. I'm looking forward to having a girl on tour with me. Trace (Adkins) is great and all, but he's not real big on mani/pedis!"
On the road, Buxton and McBride's husband, John, keep each other up to speed on Kansas University basketball.
"I never knew what religion was until I moved to Nashville, because I thought it was basketball," Buxton jokes. "I was like, 'I know another guy with three letters in his name who everyone thinks is God, and his name is Roy.' But not anymore. Now it's four letters."
Buxton will hitch her buggy to McBride and Adkins' Shine All Night Tour through April and then join up with Montgomery Gentry and Jamey Johnson for the Country Throwdown Tour in May and June.
In the meantime, Buxton is enjoying her time with McBride.
"She's hilarious, extremely opinionated and not afraid to say anything - she just doesn't do it publicly," Buxton says. "She'll forget that she's Martina McBride; she's so unimpressed with herself."
Outside her window
In an industry where 20-year-old Taylor Swift is queen, it will be interesting to see how a more mature breaking artist like Buxton is received. She's a full-grown woman with an adult worldview, but she's also still a kid at heart who sings about stupid boys and staying out too late.
Musically, Buxton has just as many sides to her personality as she has in real life. She gives equal props to Stevie Nicks and Faith Hill, placing her style somewhere along the nebulous line between rock and country.
"If you can put Colbie Caillat in the same genre as Fergie, then I can be in the same genre as George Strait," Buxton says. "What was James Taylor? Was he a rock singer? Was he a folk singer? I don't know - he was kind of both. I feel like I'm many things, and I'm not comfortable trying to change parts of myself to make it fit in a genre."
Buxton co-wrote 10 of the 11 songs on her new album - an unusually high number for a country debut. She also took the initiative on shooting a music video for her first single "Outside My Window." Buxton and her co-writer Mark Hudson shot the project on a Flip Video camcorder and edited it themselves on a shoestring $80 budget.
"It technically is the cheapest video that's ever been on CMT," Buxton boasts. "In the beginning, they said the picture is too low-quality for the look of their station. But GAC played it, and it kept moving up the charts, so now CMT added it."
Going to Disney World
While Lyric Street Records has largely allowed Buxton to retain control of her art and her image, she occasionally must compromise with the family-friendly label.
Buxton's song "Radio Love" originally contained the lyrics: Can't think without a drink / I can't dance / Hell, I can't move. In the studio, that changed to: Can't think / Don't want a drink / I can't dance / You know I can't move.
"I do love kids, so I want to be kid-friendly," Buxton says. "I did what I could to make the record PG, because I don't want to turn people off - I want to turn people on. Actually, that sounded a little R-rated."
Buxton says she doesn't mind making such concessions as long as she can find a replacement lyric that doesn't feel awkward. In the case of a song she wrote called "Miss It" (which contains a dirty word that starts with "bull"), that hasn't yet been the case.
"I've been trying to rewrite that chorus for eight years in a way that doesn't sound stupid, but I can't," she laments. "No one will ever cut it, and it'll never go on my record either."
For Buxton, that's a small price to pay for the ability to recruit her dream band - featuring guitarist/singer Jedd Hughes and a rotating cast of friends - and hit the road with some of country music's biggest stars.
If things break right for Buxton, those roles could be reversed next year.
"With Lady Antebellum and the Zac Brown Band at the Grammys, I think we all saw that country music is doing some pretty cool stuff," she says. "I'd like to see it be open to old-school country, traditional country, folk country, country rock, Southern rock - all kinds of different stuff."
As excited as she is to tour with McBride, Buxton has one regret about her busy touring and writing schedule.
"I really have always wanted to have a CD-release party in Lawrence, just because it's where I'm from and my mom would freak out," she says. "Maybe this summer we'll have a belated one. I promise we'll celebrate at some point."
Until then, Lawrence will let out a big ol' squeal every time we hear Sarah Buxton on the radio.