Thursday, February 18, 2010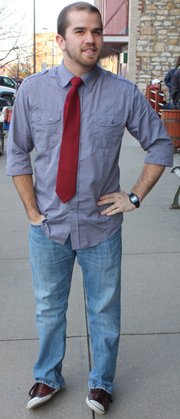 Loren Cressler
Age: 22.
Sign: Virgo.
Time in Lawrence: 4 years.
Hometown: Hoxie.
Occupation: Student at KU in English and classics.
What were you doing when scouted: Killing time before a Gov't Mule concert.
How would you describe your style: Like Alfalfa from "The Little Rascals" all grown up. I just need to wear more suspenders, and I think I'll have it.
Who are your fashion influences: Robert Redford, especially in "The Sting," and lumberjacks.
What are your favorite fashion trends: I like when girls wear knee-high boots. I like beards. I like that people can grow beards again.
What are your least favorite fashion trends: Excessive hipsterism. Any mustaches. I don't like mustaches. Everyone says the leggings as pants thing, but it doesn't really bother me as much as it maybe should.
What would you like to see more of in Lawrence: People should wear more ties. I try to wear a tie at least twice a week. It's fun to look classy. I'd also like to see more scarves on both men and women. Unnecessary accessories, I guess.
What would you like to see less of in Lawrence: Unnecessary four-wheel drive vehicles anywhere, not just Lawrence.
People say I look like: An over-sexualized version of Danny DeVito.
What are you looking forward to wearing for spring: I'm looking for a good pair of white slacks. That seems like a spring thing. I'm still on the hunt for the right pair.
Tell us a secret: The only movie from the "Star Wars" saga that I've seen from start to finish is "Episode III."
Shirt: Red Level Nine, purchased at Target two months ago.
Jeans: Levi's 514 Slim Straight, purchased at Macy's a year and a half ago.
Tie: American Edition, purchased by my grandma at a swap shop in Hoxie.
Watch: Casio, purchased at a camera shop in London over the summer.
Shoes: Tretorn, purchased on Amazon in October.
More like this story on Lawrence.com