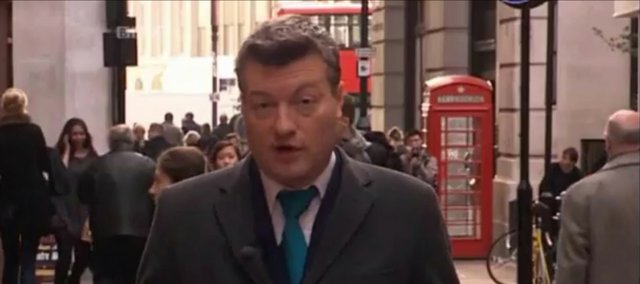 Friday, February 19, 2010
Major network news reporting has a tendency to veer into the predictable. Some might say formulaic. Cliché.
For every brilliant expose of migrant farm worker plights, there are a dozen forgettable packages on how to make sure your cat avoids heatstroke.
But sometimes it's not so much the topic as it is the execution. In the brisk-paced world of CNN-style reporting, it's simply more convenient to rely on a blueprint. Easier for those watching, and easier for those writing, shooting and editing the story.
Nowhere is this more amusingly dissected than on a show called "Newswipe with Charlie Brooker." The British journalist and comedian utilizes the BBC program to lay bare the mechanism of news media. His second season — launched in January — debuts an amazing bit skewering the "stand-up reporter package."
From his Newswipe desk perched in front of a postcard view of London, Brooker reveals how the visual language of TV reporting has become so lazily entrenched.
In voice-over: "It starts here with a lackluster shot of a significant location," he describes as an image of skyscrapers fill the frame.
Cut to Brooker himself on the street, explaining, "Next a walky-talky preamble from the auteur, pacing steadily toward the lens, punctuating every other sentence with a hand gesture. And ignoring all the (people) milling around him, like he's gliding through the (expletive) matrix."
With each new segment, Brooker introduces a tactic with which a standardized report can't do without. Next it's a shot of people crossing a crowded intersection that is superimposed with fast-motion of the same folks from a different angle. You and I have seen it all before as a viewer, only this is probably the first time we've been conscious of it.
His voice continues over the image: "Another bit of dull visual abstraction to plug another gap now before the report segues gracefully into a bit of human interest, courtesy of some dowdy man opening letters in a kitchen and explaining how he's been affected by the issue."
A lower-third graphic describes him as "Dowdy Kitchen Man." His sound bite is priceless: "When I'm watching the news, you know, there's a person talking to me, telling what's going on. And I don't really listen to what they're saying. It's just news."
Already at 1.3 million views on YouTube, Brooker has tapped into a pop-culture nerve. Often hokum is hidden in plain sight until someone savvy comes along to expose it.
This reminds me of the clever song "Montage" from the 2004 film "Team America: World Police," in which the soundtrack provides Greek chorus-like commentary on the plot.
"Show a lot of things happening at once / Remind everyone of what's going on! / And with every shot show a little improvement / To show it all would take too long!"
Actually, that last line really sums up what's wrong with network news. No time for depth, just keep moving.
Cue sound bite.
— Entertainment editor Jon Niccum explores facets of pop culture that have established a unique niche on the Internet. He can be reached at 832-7178.