Saturday, February 20, 2010
Andy McKee, internationally known fingerstyle guitarist (and Topeka native) who originally gained an international fan base on YouTube, is making a few rare in-store appearances in conjunction with the digital release of his new album, "Joyland" on Feb. 23rd (record out mid March). Even better, McKee has chosen to pay it forward and bring attention to music education, in particular how guitar playing can literally change lives.
He'll be at Mass Street Music today for a clinic, performance, and meet and greet - and it's all totally free. Mass. St. Music will be putting the spotlight that day on the Americana Music Academy, a local non-profit musical school that provides lessons, scholarships, and music therapy classes.
While this is a free event, donations to Americana Music Academy's scholarship fund will be more than welcome.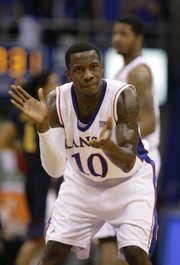 As far as threats go, the odds of Colorado ending KU's 56-game home win streak are comparable to the Royal's chances of winning a pennant this year. It could happen, but you wouldn't (or at least shouldn't) take that hunch to Vegas. Tyshawn Taylor - aka "T-Tay" - is back in the starting lineup for the Hawks this afternoon, which is good news for fans who feared an untimely transfer. Here's guessing Round 2 vs. Colorado won't be nearly as close as the 72-66 match that held our collective breath three weeks ago.



Student Union Activities is hosting the 2nd International Film Festival at KU with award-winning short films from the Expresion en Corto International Film Festival and KU student short films. The films will begin at 7:00 PM each night, with a short reception to follow in the Big 12 Room. The event is totally free and open to the public.
This year's screening includes animation, documentary and experimental shorts from over 14 countries including Argentina, Russia, Canada, Italy, Bulgaria, and Mexico. Along with this international array of films, the Festival will screen short films from KU students on each night.


"This American Life" host and producer, Ira Glass, presents an evening's discussion of journalism and storytelling in Radio Stories and Other Stories. Glass' work in radio and television runs the gamut of human experience, reporting with tender vulnerability and insightful understanding. Tonight he will combine monologues, interviews, carefully crafted narratives and music into an extraordinary, compelling story. His presentation will also include audio clips from his program and a question-and-answer session with the audience.
Check out our extended preview of this event, an interview with Ira Glass.



KC hip-hop artist Miles Bonny is celebrating the release of his latest recording, "INcense & Wine." The album is available for preview and purchase at incenseandwine.com, and comes with a metal flask so you can get your date drunk at the dame time you spin it. Check out our podcast preview of the new album.
Known for his production work with artists like SoundsGood, Sage Francis, Reggie B, and C.E.S. Cru, Bonny has stepped more into the limelight as a singer and leading personality in recent years. The transformation has allowed him limitless exploration of jazz, soul, and funk sounds, resulting in multiple releases of diverse and inspired content.
Lawrence's Cowboy Indian Bear and Omaha's It's True are celebrating the release of a split 7" record.
Cowboy Indian Bear composes deft and brainy indie pop with party-down beats and lots of melodic left turns. Points of reference include Death Cab and Architecture in Helsinki, but members Marty Hillard, C.J. Calhoun, and Beau Bruns are digging deep into the well to come up with something fresh.
It's True is an experimental rock 5-piece from Omaha that dwells in intricate production concepts and soft, cozy melodies.
Tonight the two guests of honor will be joined by Lawrence's The Dactyls (who recently posted a couple new jams on the ol' MySpace) and Kansas City's Capybara.
Lawrence's Deadman Flats blur the drunken line between fact and fiction, chronicling the misadventures of everyday boogans and dudes who pick up greeters at Wal-Mart. Only Hutchinson could have spawned such a bass-ackward brand of bluegrass, but only Lawrence could make it sound right at home. The group recently celebrated the release of its second album "Read 'Em and Weep," which ups the ante in both speed and creepiness.
Student Union Activities presents hip-hop artist Asher Roth, a 24-year-old Pennsylvania native and master of "middle-class minutiae." Roth is best known for the song "I Love College," which has developed into a campus anthem thanks to lyrics such as "I wanna go to college for the rest of my life / Sip Banker's Club and drink Miller Lite / On Thirsty Thursday and Tuesday Night Ice / And I can get pizza a dollar a slice."
Cheap Girls are a power-pop trio from Michigan who evoke muscular yet melodic acts like The Lemonheads, The Smoking Popes, and Superchunk. The group released an album called "My Roaring 20s" in October and has been hitting the road hard ever since.
Lawrence's Vegetable sets the stage with its soilent brand of progged-out guitar rock.
Lawrence's reigning Hacksaw Jim Duggan and The Rock of superbly written Americana tunes team up for a tag-team tapout at the Jackpot with support from Kansas City's Tiny Horse.


And new in movies...
Shutter Island
Dennis Lehane's character-packed but gimmicky novel "Shutter Island" earns a slightly less gimmicky film from Martin Scorsese, who makes this 1950s period piece his tribute to the psychological thrillers of Alfred Hitchcock. But for all the big performances (Leonardo DiCaprio stars), the finale is a let-down, almost a cheat.
More like this story on Lawrence.com