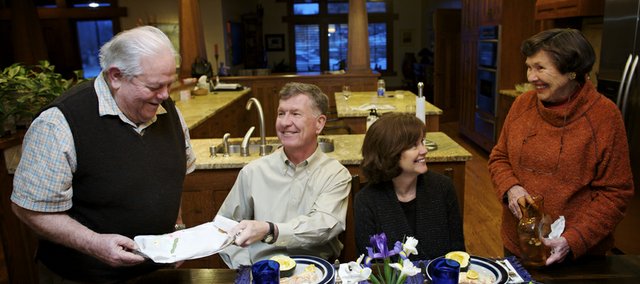 Monday, February 22, 2010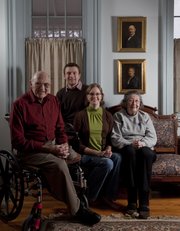 When U.S. Census takers come calling next month, they're likely to find more multigenerational families living under one roof than ever before.
Since 1990, the number of such households has grown by approximately 40 percent, with more than 4 million in America today.
Sharon Graham Niederhaus, co-author of "Together Again: A Creative Guide to Successful Multigenerational Living," says that as society ages, more people are seeking alternative living arrangements in order to stay in touch with their families and communities, and out of nursing homes.
"And, it's also the twenty-somethings," Niederhaus says. "They're staying at home longer, a lot of them due to college debt. Eighteen million 20- to 34-year-olds live with their parents now. That's one-third of that age group."
Sandwiched in the middle are the baby boomers who, in most cases, are sharing their homes with adult children or elderly parents, or both.
It's a trend that is bound to continue, according to Niederhaus, for the foreseeable future.
"There are so many financial concerns," she says. "The coming failure of Social Security, health care costs increasing, people living longer, boomers heading into retirement, not to mention the high cost of living."
But it doesn't have to be a doom and gloom situation. There are plenty of financial and emotional benefits of families living together, Niederhaus says. The key to success is "proximity with privacy."
"People can get very creative," she says. "They can put a cottage in the backyard or even put a trailer on the property as temporary housing. And one-third of American homes can be converted to add a so-called accessory apartment. You can move walls, add a bathroom and a kitchenette. Make a separate entrance or, at least, a lockable door at the end of a hallway."
Designed for four
Cindy and Mike Maude decided to go one better and build an entire wing for Cindy's parents, Roy and Florine Creek, in their new home.
"We decided to move to Lawrence after I'd been commuting from Topeka to our business, Callahan Creek, for four years," Cindy Maude says. "At the same time, my parents were beginning to think that their house at Lake Quivira was a little too much for them. They were starting to look at retirement homes in Kansas City, but I could tell my dad was thinking, 'Oh, I don't want to do that.'"
So, the Maudes approached Roy and Florine, 92 and 89 respectively, six years ago, with an offer they couldn't refuse.
"We told them, 'We're moving to Lawrence, and why don't we build a home — that we can design from the start — to give you two a place to live?'"
The Creeks were hesitant, but the idea started to grow on them, as did the plans for their self-designed wing in their west Lawrence home.
Cindy Maude says, "It was funny because, at first, they said, 'We just need a bedroom, a little sitting room to watch TV and a place to make coffee.' But they ended up with two bedrooms, two baths, a living room and a kitchen."
The family had an attorney draft an agreement laying out the financial details of the arrangement, something Neiderhaus says is a must, and started their new life together.
Florine Creek says it was difficult to leave their lake friends behind but that was the only disadvantage.
"We have a very nice arrangement," Florine says. "We cook for them (during the week) and they do the dishes. Then on weekends, they like to cook for us. And we have wonderful peace of mind. We just don't worry about anything!"
Students and seniors
Across town, three generations of the Pendleton family gained peace of mind two years ago when Al and Lorita Pendleton invited their granddaughter, Liz, and her new husband, Thomas Grillot, to live with them in their rural family home.
"It was always my idea to help them because Thomas (a KU Med student) had years of study and debt," Lorita says. "But they help us a lot."
Both Al, 85, and Lorita, 83, are in wheelchairs, so they use the first floor of the home, while Liz and Thomas occupy the upstairs. They share the kitchen, but each couple has their own space.
"When we moved in, someone bought a second refrigerator," Liz says, "so we have that. And we use the cabinet shelves that are up high and hard for them to reach."
Thomas and Liz assist in keeping track of the older couples' medications, and Thomas helps Al with the oxygen mask he wears at night for sleep apnea.
"I'll just make sure it's on right," Thomas says. "Sometimes it can slip off."
But what's it really like for newlyweds to share their first home together with the bride's grandparents?
"Well, one bad thing is all of our wedding gifts are still in storage," Liz says. "But when we get our own place, I guess it will be like Christmas."
As for her husband of two years and four months, Liz says, "I tell him all the time I don't know how he puts up with my family."
For the elder Pendletons' son and daughter-in-law, John and Karen, who live nearby, it's a near-perfect situation.
"It's been great for all three (couples) of us," John notes. "Karen and I are on call during the day so we can get over here quickly if something goes wrong. With our family, it's always been kind of a group effort."
More like this story on Lawrence.com