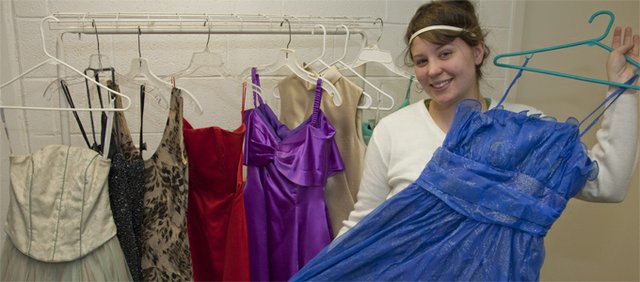 Monday, February 22, 2010
Shop for formals
Donations: Dresses and other formal attire will be collected through March 3 at the United Way, 2518 Ridge Court.
Shop: Boutique hours will be 4 p.m.-6 p.m. March 4-5 and 11 a.m.-1 p.m. March 6.
United Way's Prom Dress Drive and Boutique began last year as a way for women and girls to pick out used formal dresses at no cost.
This year will mark the second annual event. United Way, 2518 Ridge Court, is taking donations of formal dresses through March 3, and a boutique of the dresses — available to anyone interested — will be open at United Way on March 4.
Paige Blair, United Way volunteer coordinator, says though the event is targeted toward girls going to the prom, anyone is encouraged to visit the boutique and pick out dresses for formals, graduations and other events.
"It's open to all women," she says, recounting how a Manhattan woman and her three daughters picked out dresses at the event last year.
Blair says the variety of fashion designs at the boutique is wide — from dresses donned with sequins and lace to strapless styles. "We got some dresses that were totally vintage last year," Blair says, "and some brand new ones. It's such a gamble. You have no idea what people are going to bring in that's in their closets."
Scotch Fabric Care Services is donating dry cleaning vouchers so that all women and girls who choose dresses can have their new attire cleaned for free. The dresses themselves are still in great quality to begin with, Blair says. "The thing about these dresses is that they've only been worn once, and they're not scrubby or worn down," she says.
Donations have been slow this year, Blair says, but about 100 dresses from last year are left over and will be at the boutique in March. Blair says last year's boutique topped out at about 220 dresses.
Annette Conrad, who volunteered at the event last year and plans to volunteer again in March, says dresses at the boutique are of good quality.
"It's almost like getting a new one," says Conrad, whose daughters picked out dresses at the event last year. "It's fun to watch, because some of these girls wouldn't have the opportunity to get these dresses."
She says shoes, jewelry and accessories were also available at the Prom Dress Drive and Boutique last year, in addition to formal dresses.
Blair says she is still looking for numerous volunteers, including a personal shopper to help girls pick out their perfect dresses, a photographer and others to help sort through dresses, stock racks to create a boutique atmosphere and return dresses from the dressing rooms to racks.
Because of the success so far of the Prom Dress Drive and Boutique, Blair says she is interested in the Social Service League Store housing some of the donated formal dresses year-round sometime in the future.
"We're hoping the people who need them know about them," Blair says of the dresses. "Anyone should come and look."
More like this story on Lawrence.com