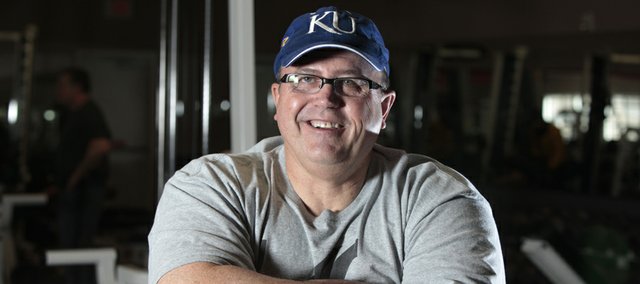 Monday, February 22, 2010
Rick Sells, former teacher, Mr. USA contestant and judge, and now owner of Lawrence Athletic Club, knows firsthand the struggles entailed in achieving and maintaining physical fitness.
"When I came to Kansas University in 1980 to do an MS in kinesiology and athletic training, I was 5'10,single and chunky, weighed 235 pounds, and knew I needed to do something about it," he recalls.
"I started running, lifting weights and body building."
He progressed to be able to leg-press 1,500 pounds and placed 15th in the Mr. USA competition.
Born in Wichita, Sells played baseball and football for Chase Rural High School, and after graduating from Pittsburg State University with bachelor's and master's degrees in education, he moved to Lawrence. He taught at Central Junior High School for three years and at Tonganoxie High School from 1979 to 1980. He embarked on another master's degree at KU in 1980 and was assistant strength coach under Mike Shields and Keith Kephart.
"I loved it and set my hopes on becoming a full-time college strength coach," Sells says. "When I learned how hard it is to get into college strength coaching without knowing people in the profession, I decided to open a gym instead."
In 1984, Sells bought and operated Junkyard Jym for 10 years. It had an active membership of 400 hardcore weightlifters. After some personal challenges in the early '90s, he gave up competitive weight-lifting and says God gave him a second chance to make the most of his life and give back to community.
He built the Lawrence Athletic Club in 1994 and married speech pathologist Shannon McCune in 1995.
"Many people said I was mad to open another gym, but I decided to go ahead and build one that was more attractive and useful for the general population," Sells says. "The membership went from 400 to 3,000 within a year."
He added a swimming pool and basketball court in 1998, and when the club burned down in 1999, he rebuilt it, added an east Lawrence location and upgraded the swimming pool in 2006.
Last year he organized the first Leaner Lawrence Program at the club and gave away free six-month memberships as an incentive to get people healthy.
"I've been in business in Lawrence for 26 years and feel it's important for me to give back to the community that's continued to support me," he says.
"One hundred people started the program, and the 62 who finished lost 1,299 pounds between them. We're about to start another Leaner Lawrence, and we're in the process of starting the Physicians' Program so patients can get healthier and be supported in a new healthier lifestyle."
Sells accepts that his Mr. USA-type body is gone but agrees it's no excuse for not being in top physical shape.
"I've been blessed with good health, and I'm determined to get back into better shape again," he says. "I'm still passionate about helping others to achieve their health and weight goals."