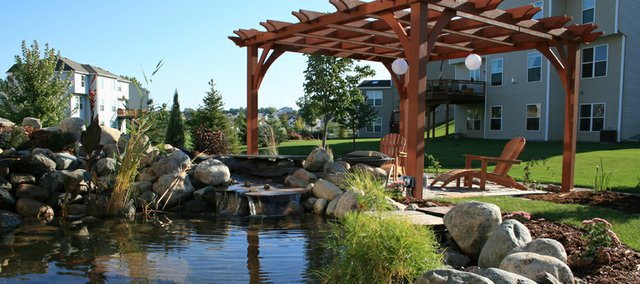 Monday, February 22, 2010
KU graduate on 'Sweat Equity'
The DIY Network's "Sweat Equity" will air reruns of the "Zen Retreat" episode with Girish Ballolla at 8:30 a.m. Tuesday, 6 p.m. Wednesday and 8 a.m. March 2 on DIY, Sunflower Broadband Channel 126.
Girish Ballolla loves the oasis he's created in his backyard.
"I sit out there on the hammock with a cold one and think, 'This is the life,'" he says. "I don't have to go anywhere to get to a park."
Sure, he can say that now that the grueling four weeks are a distant memory, with the severely jammed finger, the sore back from moving tons of boulders and rain delays all making way for a backyard oasis.
Ballolla, a Kansas University alumnus, did all the work as part of an episode of the DIY Network's "Sweat Equity." The show, hosted by Amy Matthews, shows how homeowners can add value to their homes by doing projects on their own.
Ballolla's episode initially aired in the fall, though repeats are still being shown on DIY.
It was filmed over four grueling weeks in September 2008, when Ballolla transformed his plain, grass backyard in suburban Minneapolis into a "zen retreat," as the title of the episode deems it.
He hooked up with the show because of the stone business he previously operated. He had helped a production company previously for an episode of HGTV's "Curb Appeal," and when producers called asking if he knew anyone interested in being part of "Sweat Equity," he volunteered himself.
Ballolla and his family — wife Vashalee and two girls, now ages 4 years and 19 months — didn't use their backyard much. They had lived in their home for about 3 1⁄2 years at the time.
So using his experience with the stone business — and a lot of manual labor — Ballolla transformed the green space. He added a pergola, a pond with koi, stone walkways, a fountain and a large sandbox for his daughters to play in. He filled in the space with additional landscaping.
The show requires the work be done over a four-week period, and host Matthews came out several times to interview Ballolla. (He wore a KU T-shirt during one of the shoots, to represent the school he earned degrees from in 1992 and 1997.)
"I was out there every evening," he says. "I still had a business to run."
But while the work was grueling, it also was fun.
"It was absolutely amazing, the things I learned to do in this project," he says. "I mean, I had never driven a Bobcat. It was fun. It was amazing how many people would stop by — neighbors who I'd never even met. It was a pretty high-profile project. I was digging up my entire backyard."
Matthews says Ballolla was the perfect person for the show, with his background in home improvement and his flexible attitude. She says he rolled with the punches as his project changed over the course of construction.
"You have to be able to go with the flow," she says. "What looks good on paper doesn't always look good in real life."
She says adding equity to Ballolla's home by working outdoors made the most sense in his neighborhood. She says in his subdivision, most of the houses look the same, so doing landscaping and other outdoor improvements was the best way to make his home stand out from the crowd.
"It's a red flag if the outside doesn't look good," she says.
And Matthews says labor is by far the largest chunk of most hired-out landscape projects. She suggests doing some research and doing projects yourself, if possible.
"It feels good to dig in the dirt," she says.
The Ballollas have spent a lot of time outside since the show was filmed. It's a multipurpose space — good for Vashalee's yoga students to practice in, good for grilling and roasting marshmallows, and good for just relaxing.
"We love it," Ballolla says. "In the last 1 1⁄2 years, we've spent more time out there than the previous three years of living in the house. It's absolutely peaceful."
More like this story on Lawrence.com