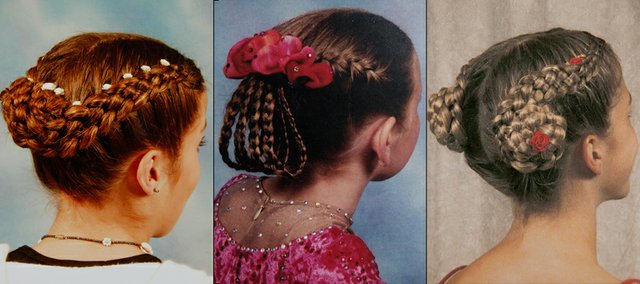 Monday, February 22, 2010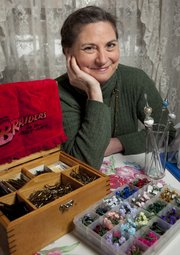 Olympic skating on TV
Want to see Rachael Flatt perform? Check out the 2010 Vancouver Olympics figure skating schedule:
Tuesday: Ladies' short program, NBC (Sunflower Broadband channels 8, 14, 202), 7 p.m.
Thursday: Ladies' free skate, NBC (8, 14, 202), 7 p.m.
Braiding tips
Tips from Debra Jennings, aka Braider Deb, on how to improve your braiding abilities:
When French braiding, try to pick up smaller clumps of hair.
A spray bottle with water can be helpful.
Try using leather shoe laces to practice on.
Be creative and have fun.
Practice, practice, practice.
Figure skating is about the quest for perfection. From the shiny blades of the skates and the precision of the jumps to the crowns of perfectly coiffed hair, everything is choreographed so the skaters can reach their own state of perfection on the ice.
America's best shot at the perfect Olympic accessory — the gold medal — in the women's figure skating competition at the ongoing Vancouver Games may very well be Rachael Flatt, a spunky 17-year-old with a cherubic face, daring attitude and a 2010 U.S. Championship title. And no one in Lawrence is pulling harder for Flatt than Debra Jennings, who has helped the Colorado-based skater strive for perfection for years.
To Flatt, and thousands of other skaters throughout the Midwest, Jennings is known as "Braider Deb."
As her alter ego, Jennings sets up shop at regional figure skating competitions and braids hundreds of heads over the course of multi-day competitions. A professional braider for 30 years, Jennings has been working at skating competitions for 13 years, ever since receiving an invitation from a skating group at her usual braiding venue, the Kansas City Renaissance Festival.
"A club from Oklahoma saw me at the Renaissance Festival and they called me and asked if I would come to a competition in Kansas City and braid their club. I was kind of skeptical. I said, 'Well, if you can guarantee me 10 braids, yeah, I'll come in,'" says Jennings, who charges about $25 per head. "Apparently, no one had braided at ice skating competitions, and so it has just kind of bloomed off into a whole new career."
She now braids at competitions year-round, traveling to two or more times a month and spending long hours working out hairdos appropriate for each girl's hair type, costume, routine music and age.
Wendy David, an Overland Park coach with the Silver Blades Figure Skating Club, says that having Jennings at competitions is a real lifesaver as a coach because with a professional around she knows her athletes' hair won't "explode on the ice" — coming undone and causing a distraction that could take the judges' attention away from the girls' performances.
"I feel comfortable that they'll be ready to go — whenever she does hair, we'll never have to worry," David says.
Jennings' services are also a relief to Trish Porter, a skater's mom from Albuquerque, N.M. Porter says that though she's no stranger to athletics — she competed in the 1988 Seoul Olympics as a high jumper — she was a novice to the "look" side of figure skating when her daughter, Shannon, began competing three years ago.
"As a mom with a skater, you have to juggle the dress, the makeup and the hair. I can't do any of those three things," Porter says. "It is totally worth it. Her hair looks great, she feels great — you want them to feel good out there."
Jennings says she relishes getting to know all the girls, many of whom, no doubt, would love to be the next Rachael Flatt.
"It's kind of like watching family grow up," Jennings says. "I'm a fan of all the kids I know. And it's really exciting when they come back and go, 'Braider Deb, Braider Deb, I came in first!'
"It's just a win-win job."
More like this story on Lawrence.com