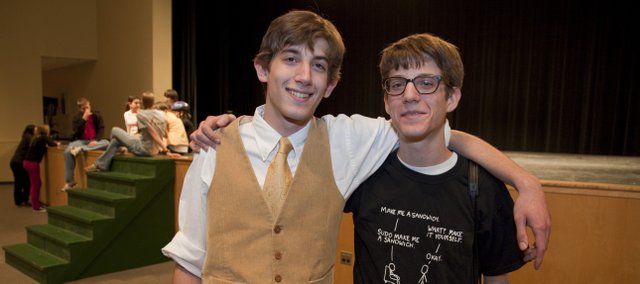 Tuesday, February 23, 2010
ArtStar
The ArtStar award, sponsored by Jayhawk Dental and The World Company, is given monthly to a senior at a high school in Lawrence who excels in the fine arts. Nominations must be made by art teachers. To nominate a student, visit LJWorld.com
It takes two to make the Free State High School Thespian Club run right. Twins Nate and Ben Rosenbloom rank as president and vice president of the group, but don't expect a power struggle between the duo. When it comes to participating in the arts, Nate and Ben are about as similar as it gets.
"We're actually in different choirs," Ben says. "Arts-wise, we are in almost exclusively the same sorts of things."
They've been involved in the same plays, sometimes both as actors, others with Ben working for the technical crew. But expect the unexpected with these two, who claim they've never fought over a single part.
"I've never really got the sense that we've been very vicious or cutthroat about part competition," Ben says.
But Nate isn't sure how it would go if the two had lead roles in the same production.
"Probably the end of the world or something," Nate says. "We're like Chuck Norris and Mr. T. If you get us together, the room explodes."
In case you're wondering, Nate says he's Chuck Norris, while Ben would be Mr. T.
But that hasn't stopped them from working together in just about every capacity when it comes to the arts. Nate and Ben Rosenbloom share the honor of February Art Star. The award is sponsored by Jayhawk Dental and The World Company.
Free State drama director Nancee Beilgard says Nate and Ben are similar when it comes to their dispositions.
"Their sense of humor is similar. Personality-wise, they get along with everybody," says Beilgard, who has seen the boys in action for three years. "Their kind nature, their helping nature, the fact that they'll jump in and do anything."
But on stage, the difference between Nate and Ben is more than just a pair of glasses (which Nate says he needs desperately to see anything).
"Ben tends to go over the top. Sometimes we have to pull him back, where as Nate is more reserved. I'll have to pull him out a little more," Beilgard says.
The two got started in theater in seventh grade in "Schoolhouse Rock: The Musical" at West Junior High School.
"It kind of just happened," Nate says.
And their artistic careers just took off from there.
"I don't think I've ever been involved in a play that he hasn't helped with at least and the same for me," Nate says.
Their latest show, "Acts of God," puts Nate on stage and Ben behind the scenes working in the crew.
"Around this time of year, school gets very busy, so I usually like to do crew for these plays," Ben, a National Merit Semifinalist, says. But crew doesn't outweigh his love of the spotlight. "If I had to pick a favorite, I wouldn't be able to."
But the boys don't just focus on acting. They belong to a bevy of clubs and after-school activities.
"I can't even tell you how many clubs that they're in, the things that they do," Beilgard says. "When we go to a thespian conference, all the things they do as far as stage combat and the writing and the direction, all the things they do. It's just amazing all the things they're interested in."
Ben is also penning a play in the hopes it gets to the stage in Free State's Black Box Theater Festival in the spring.
"There's an audition process by which we pick the plays, so with any luck, that will get in this year," Ben says. He wrote and directed a play in last year's festival. "It's a very involved process here."
While they tend to get along for the most part, there are still the typical sibling quarrels.
"You get into a lot of arguments. We've had artistic differences before," Ben says. "We've quarreled over how to best interpret lines."
But, disputes aside, both are excited to be sharing the ArtStar honor with the other.
"I thought, 'Man, this is so cool. High five!'" Ben says.
And Nate agrees.
"(I thought) that'd be really nifty if we could do this together," Nate says. "It was just really amazing."
The two are planning on heading off in separate directions after high school and don't plan to pursue acting as a career, but Nate and Ben both want to continue being involved in the theater.
"I can't even imagine where they'll end up going (to college)," Beilgard says. "If they split up, it's going to be really weird."
While Beilgard says she'll miss Nate and Ben, especially because "they're like sunshine every day," the boys do have a younger brother coming up the ranks.
"We'll see how he steps up," Beilgard says.
Nate and Ben, clad in vests and ties, might have differences, but ultimately twins are twins.
"We do a lot of the same things, and it definitely shows," Nate says.