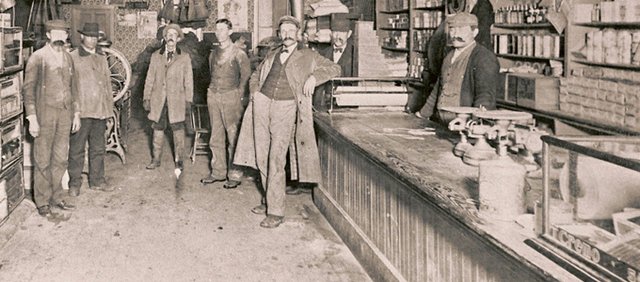 Wednesday, February 24, 2010
On the street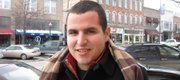 The cupboard is bare, save for packets of yeast, locally made salsa and a few other odds and ends marked down to nearly half off. The deli is dark and lifeless, having served its last meal in January. The happy strains of Caribbean music still strum in the background, now thunderous in a suddenly cavernous and rapidly emptying space.
Once a ground-breaking urban organic grocery and deli, The Casbah Market, 803 Mass., is quickly shuttling out inventory during limited hours each day but Sunday — 4 p.m. to 7 p.m. — and with each sale, comes closer to shutting its doors for good.
"We're just kind of waiting to see what happens with the inventory," says Cassy Ainsworth, co-owner of the store. "And then when we get most of the inventory out, we'll close the doors."
The end of the Casbah also means the end of a short grocery renaissance for downtown. A hundred years ago, Massachusetts Street was flooded with grocers, meat market proprietors and dry goods wholesalers competing for Lawrencians' food dollars. But when the Casbah opened its doors in January 2008, downtown had been without a true grocery for 12 years.
Throw North Lawrence and East Lawrence into the grocery-less mix, and a large area banded by 15th Street, I-70, Iowa, and the eastern city limits again persists without a place to buy staples and fresh produce in a traditional market setting.
Food science
Why the grocery drought in that particular section of town? It's not about the number of homes, it's about the dollars, says Roger Zalneraitis, the city's economic development planner and coordinator.
"It's not just households they're looking at but the disposable income they're getting out of the census data as well," Zalneraitis says. "Then, as a secondary consideration, even if a grocery store wanted to locate in this area, would they be able to find something of the size to compete? Just generally, a smaller store is going to have higher costs just because you're not going to be able to get the same sales per square foot."
What would it take to have a regional or national grocer try to make it? The same thing that caused the recent additions of two large groceries on West Sixth — Hy-Vee and Dillons — development. Zalneraitis says development like the Hobbs Taylor Lofts on New Hampshire Street does help, but there needs to be more for larger grocers to take notice.
"I think that if the population growth continues, then that makes the argument a lot better — a lot more likely that a grocery store will show up, take root and stay, as opposed to giving it a go for five years and being successful and moving on or not being successful and closing shop," he says.
Jane Pennington, director of Downtown Lawrence Inc., says there's also a model that might prove stable in downtown merely because it can make it in some of the largest cities in the world: the bodega. Half-newsstand, half-grocery, half-convenience store, she says a New York-style model might function well.
"I don't know the formula for actually making it work, and it may be that because of the rents, that it's not a feasible format," she cautions. "But I would think that if you had enough variety that you could fill those quick, everyday needs and that you might be able to make it."
Working with what's there
Deron Belt, president of the East Lawrence Neighborhood Association, says that while he would like to see a full-service grocery downtown or in East Lawrence, he thinks the best option for now would be to work with what's available: The Dillons at 19th and Massachusetts.
"We're now left with waiting for Dillons to remodel itself, and that's going to be our choice on the east side of Lawrence," Belt says, pointing toward the company's remodels and expansions at its stores at 1015 W. 23rd St. and 4701 W. Sixth St. "If they remake the store in that image, it'll certainly give us more choices at that store, it just doesn't give us more stores to chose from."
Sheila Lowrie, communications coordinator for Dillons, says that she has no news on possible improvements to the store, 1740 Mass., which was built in 1960 and is the city's eastern-most grocery. However, she did say the company was aware that the Massachusetts Street location does see more "neighborhood" customers than other Lawrence stores, meaning more people are apt to walk to the store or visit it after a long day of work downtown. While the company does realize this might mean that store is ripe for a renovation that includes more deli and take-home items along the lines of the 23rd and West Sixth Street locations, nothing is planned.
"There is extensive work that is done, not only by Dillons stores but also through our parent company with Kroger as far as evaluating store locations and determining what type of capital expenses we can endure and what type of projects we can facilitate that will both serve the community and serve our business needs as well," Lowrie says. "We do continue to work to really make the shopping experience our customers have in our stores the very best, and if that does include renovation projects, we're exploring all of those options."
Other grocery options also being explored? The sale of the Casbah. Ainsworth is tight-lipped on potential buyers but did say that she and the store's other owners, Ainsworth's husband, Josh Millstein, and his sister Casey Millstein, have been in contact with an interested party. Though she declined to say if that potential buyer was planning to enter the grocery business, Ainsworth did point out that little would have to be done to the space if that were the case — and that there would already be a customer base.
"We'll close the doors, and then hopefully in mid-to-late April, somebody will come in and reopen the business," she says. "We've just been so lucky to have the people shopping here that we've had.
"They've just been really supportive the whole time, and they've been supportive all the way to the end."
By the numbers: Groceries in downtown Lawrence
2: Number of years The Casbah Market remained open as an organic grocery and deli.
186: Number of grocery suppliers in Lawrence as a whole between 1900 and 1956.
69: Number of grocery suppliers to come and go on Massachusetts Street from 1900 to the Great Depression.
4: Number of years (nearly) that Wild Oats was at 1040 Vt. before it closed in 1996, leaving downtown without a grocery for 12 years.
1916: Year Piggly Wiggly, 935 Mass., became the first chain to introduce self-service grocery (before, customers were waited on by clerks).
1,800: Square feet of the average grocery in Lawrence in 1909.
2,200: Square feet of The Casbah Market.
67,313: Square feet of HyVee, 4000 W. Sixth St.
86,000: Square feet of the newly expanded Dillons, 4701 W. Sixth St.
1: Number of groceries that opened and closed during The Casbah's run: The Eastside People's Market, formerly 409 E. 12th St., which was open from May 2008 through early 2009.
— Sources: Watkins Community Museum of History, Hy-Vee, Dillons and The Casbah Market.
— Staff writer Sarah Henning can be reached at 832-7187.