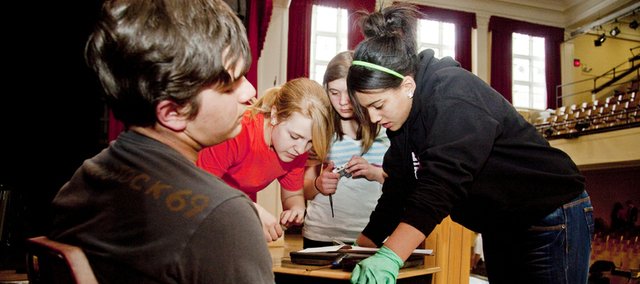 Thursday, February 25, 2010
Four dead bodies — strangled and bludgeoned — littered the Central Junior High auditorium Thursday.
Teams of ninth-graders worked to find the killers by inspecting the various crime scenes, all as part of a "Crime Scene Investigation" exercise.
"It was really fun as opposed to learning from a textbook," said Johannes Reiber, one of the students enrolled in the advanced biology class that participated in the exercise. Reiber's task was interrogating the murder suspects, comprised of teacher volunteers.
"Some of them were a little bit suspicious," he said. "I try to get them to slip up and say something they don't want to say."
Reiber and the other students spent two weeks learning crime-solving techniques, such as DNA testing, hair sample collection and fingerprint identification.
Biology teacher and event coordinator Julie Battaglia said the CSI-themed assignment was a fun way to get the students interested in science. Started by her predecessor, the event is in now in its sixth year.
And the student-sleuths were having fun and learning about relying on the evidence.
"It's like solving a puzzle," said Paul Eberhart-Phillips, who spent the class period taking photographs of a fellow student posing as a murder victim. Based on a wound to the back of the head, Eberhart-Phillips theorized that the murderer killed the victim with a table leg.
But he'd rely on the lab results — and the scientific process — before identifying a definitive cause of death, something not always emphasized in the movies and on TV.
"It's a lot harder than it seems," he said.
The challenge, however, has sparked his curiosity about a career in crime solving, something he hadn't considered before the class.
Now, he said, a future as a CSI detective is "a definite possibility."
More like this story on Lawrence.com