Thursday, February 25, 2010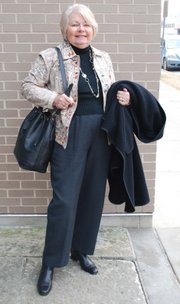 Grace Carmody
Age: 74.
Sign: Aquarius.
Hometown: Cleveland.
Time in Lawrence: 23 years, split: 1969-82, 2000-present.
Occupation: Metalsmith artisan, designing fine art jewelry using silver and gold; volunteer at the Lawrence Arts Center.
What were you doing when scouted? I was working in my studio.
How would you describe your style? Artistically classic. Simple lines and monochromatic colors. ... I take artistic creativity by adding leather and unusual jackets, vests and stoles along with a classy handbag. Basically, I dress in black, beige or gray and add the accents, sometimes with very vibrant colors.
Current favorite fashion trends: I like to wear dressy slacks with various tops, like sweaters or blazers. I do not own any jeans! I love cashmere, silk, wool and natural fabrics. In the winter, I like to wear a warm cape or stole along with a hand-knitted scarf.
Least favorite fashion trends: Denim-country-granny look on women and low-rise, baggy pants on guys.
What would you like to see more/less of in Lawrence: I like the diversity of styles here, and I appreciate that everyone has an individual style concept; however, I do not care to see facial body piercing (except for pierced ears) and the aforementioned baggy pants.
Do you have any fashion influences: I go back to the Coco Chanel days. I like her simple style. I typically gravitate toward the overall style available at shops like Talbots and Chico's.
Tell us a secret: I am a closet pack rat. I have three closets full - one for everyday dress, one for dress-up and one for travel. I even have clothes that go back to the '70s! I remodel some of the quality items that I really loved wearing. I also collect genuine vintage designer handbags, and I try to find them on my travels. I visit various vintage boutique shops in the big cities. I found my favorite Louis Vuitton bag at a shop in L.A. near Rodeo Drive.
Jacket: Chico's, 2007, $79.
Sleeveless Shell: NY&C;, Nordstrom, Atlanta.
Slacks: Talbots, 2003, $90.
Shoes: JCPenny, 2005.
Necklace: Chain of Errors, self-designed/crafted.
Earrings: self-designed/crafted.
Ring: diamond (from father), band melded from three family rings, self-designed/crafted.
More like this story on Lawrence.com