Thursday, February 25, 2010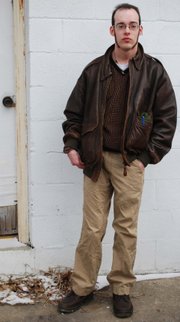 Jack Wier
Age: 25.
Sign: Sagittarius.
Hometown: Plymouth, Minn.
Time in Lawrence: Three years.
Occupation: Special education graduate student at KU.
What were you doing when scouted? I was working on the crossword at Aimee's Coffeehouse.
How would you describe your style? Old-world clothing mixed with classic Americana and bright colors.
Current favorite fashion trends: I like sideburns - I wish they'd stay in style. A few years ago sideburns experienced a brief comeback as a popular trend, but currently I don't see too many around town.
Least favorite fashion trends: The whole '80s revival - leggings, exaggerated shoulders. ... I prefer a more comfortable, everyday style. I think correctly fitted, proportionate clothing is most flattering overall.
What would you like to see more of in Lawrence? More independent shops. We have a rich blend of population, and I'd like to see more places that cater to everyone, regardless of their personal style.
What would you like to see less of in Lawrence? Fewer lurkers, less sheep. Herd-mentality fashion has got to go. I feel like kids walk around in groups, each dressed the same way - a gang mentality, you know? That's just not my bag.
Do you have any fashion influences? Jimi Hendrix, the film "Easy Rider" and Steve McQueen in "Bullitt."
People Say I look Like: Edward Norton and my twin sister from Minnesota.
Do you have any tattoos/piercings? I have 31 tattoos.
Tell us a secret: I have a tattoo designed after a rare Alberto Vargas pin-up.
Shoes: Ecco, Nordstroms, January 2010, $300.
Pants: Dockers, Target, February 2008, $30.
Sweater: Macy's, November 2007, $40.
Coat: Thrift store, Ireland, June 2006, $8.50.
Glasses: Galleria, August 2005, $150.
Watch: Movado, May 2007, gift.
Chain: Goldmaker's, September 2009, $35.
Charm: Buddhist protection amulet, August 2009, $15.
More like this story on Lawrence.com