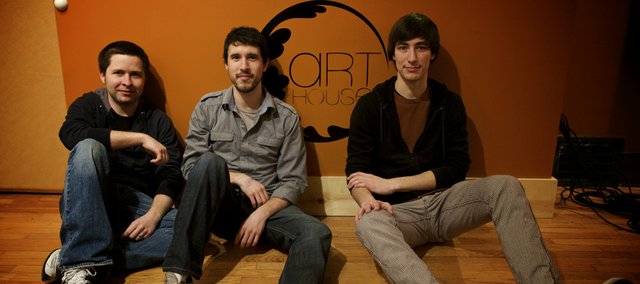 Friday, February 26, 2010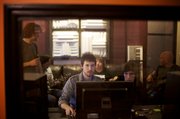 Album Mp3s

Noise FM
Record a song. Edit a movie. Paint a picture. Take a guitar lesson. Get a haircut.
All these options are readily accessible in a town like Lawrence. Now, all can be found in one house.
Such is the conceit found at the Art House, 912 Ill.
Having opened its doors Jan. 29, the new endeavor is equal parts recording studio, artistic fishbowl, Andy Warhol-style Factory and crowded set of TV's "Big Brother." The idea sprang from Lawrence musician Matt Christenot.
"For so long, studios were this really technical thing where you had this high-tech gear and a facility designed to maximize sound. But then you're trying to do this creative endeavor of making music. Sometimes the two are separate things," Christenot says.
The Art House proprietors believe if the focus relies more on the creative atmosphere, that might be equally as important as maximizing the space for total sonic efficiency.
"Part of that for us is the community environment aspect," says Christenot, who shares ownership with Jim Barnes, John Flynn and Isaac Flynn. "There are lots of artists working around you. There's different networking. There's the sense of escape. I'm sure there are other places doing these kinds of things, but not in Lawrence. That's what makes us different."
It's a risky move for the Art House gang. In the last two years, nearly every Lawrence-based studio has closed its doors — economic fallout from the realities of recording technology becoming cheaper and more commonplace.
Christenot says, "It was a huge part of the discussion. A lot of people were like, 'Why would you open one now?'"
Fortunately, the Art House folks were hardly strangers to the recording biz. John Flynn owned Red House Recording Studio in the '80s and '90s. Barnes ran his own studio in Mississippi for the last eight years.
"They both came in with all their gear paid for — which is the biggest expense. We haven't paid a dime in equipment," says Christenot, a Florida native who attended the University of Southern Mississippi with Barnes. It was he who convinced the talented engineer to relocate to Kansas for this venture.
In the few weeks since it opened, marquee local bands such as The Noise FM and The Dead Girls have recorded with Barnes producing/engineering.
"I think we're offering an extremely high-quality recording in a great environment that's extraordinarily affordable," says Christenot, as a new Noise FM track appropriately titled "Who We Are" blasts from the control room speakers.
Team dynamic
In addition to the owners, other current Art House residents include:
• Eric Mardis: The Split Lip Rayfield guitarist/banjo player has his own teaching studio where he gives lessons by appointment.
• Marc Havener: The chief force behind Resonate Pictures, Havener has a long track record working in feature films since graduating from Kansas University with a film degree in 1996. He is presently solidifying his reputation as a documentarian.
• Jami Flynn: The wife of John Flynn and mother of Isaac Flynn, Jami will open the salon Hair Art on Monday. She also boasts a 20-year history as a vocalist in a number of area bands.
• Shannon White: The basement of the Art House is dedicated to space for working artists. White is a "figurative painter who specializes in portrait commissions and shows work in galleries and alternative spaces." She will be offering classes and presenting exhibitions at the venue.
"I enjoy creating my paintings in a place where potential peer critiques and conversations can occur between artists, patrons and visitors of all types," says White, who graduated KU with a degree in painting.
"The occasional drum solos and other instrumentation from recording sessions upstairs give me a bit of musical stimulus while I paint downstairs. There may be opportunities to collaborate with other artists there and promote each other as time goes on. The arts have thrived when these kinds of artistic communities are cultivated, historically."
Different perspective
Not everything is working out ideally with this new living arrangement, however.
"There are certainly negatives," Christenot says. "Marc and I are trying to figure out how to make his area quieter upstairs. You can definitely hear the drums. And how do people come in the building when we're recording (in the main room)? How we manage all that stuff is just like having roommates. Everyone is inconvenienced in some way. But isn't the vibe worth the compromise?"
Havener believes it is.
The filmmaker previously had worked from a home office in his basement. He often got stir-crazy from the isolation, so he frequently began working out of Starbucks and La Prima Tazza instead.
"You walk in and the baristas are asking how your last (film festival) trip was. It's like, 'Hey, this is great. You have people here, and people are a good thing,'" says Havener, who is putting the finishing touches on the DVD release of his award-winning short "And What Remains."
"Taking that need of mine to be around people — then taking that to the next step of being around creative people with their different disciplines — it's a way to feed off that energy. ... Sometimes I'll be stuck when I'm working on something. And I don't need anyone's input, I just need a different creative experience to get perspective. So I'll walk downstairs and go hang out with somebody painting or sculpting and talk to them about what they're doing."
Now all the Art House needs is a coffee shop.