Friday, February 26, 2010
Movie
Last Station
*** 1/2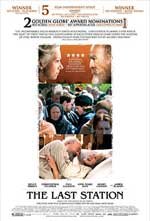 Michael Hoffman's film is based on the Jay Parini novel about the last days of Leo Tolstoy, a man regarded as a living saint in pre-World War I Russia. Christopher Plummer plays the peasant-loving writer and Helen Mirren is his imperious wife, both earning Oscar nods for rendering the twilight of a marriage at the dawn of a new century.
"The Last Station" is a moving, fictionalized account of a piece of real Russian history, a tour de force for an actor who's in his prime in his 70s and 80s, and a real return to form for a director most at home in period pieces.
Michael Hoffman's film is based on the Jay Parini novel about the last days of the great writer Leo Tolstoy, a man regarded as a living saint in pre-World War I Russia. That was partly due to his fame and the reputation of "War and Peace" and "Anna Karenina." But also because Tolstoy, brought to twinkling and raging life by Christopher Plummer, had become a religious philosopher, preaching the abandonment of personal property, passive resistance, justice and love to Russia's peasants, thus irritating the government and the status quo-protecting Russian Orthodox Church.
His effort to "perfect my soul" wins converts — "Tolstoyans," one of whom is a young essayist, Valentin (James McAvoy). Valentin takes the job of secretary to the 81-year-old Tolstoy, but is given grave instructions by Chertkov (Paul Giamatti, wonderful), the leader of the Tolstoyan movement. Go, serve, keep a diary and by all means, keep Chertkov informed of Countess Tolstoy's doings.
"She's very very dangerous," he whispers.
Mrs. Tolstoy, Valentin discovers, is in a fury over "conspirators" and her husband's plans to turn over his copyrights "to humanity, to the Russian people." She's been his muse, his transcriptionist and his editor for 48 years. She's not having it.
"You all think he's Christ," Helen Mirren, as the Countess, fumes as only she can. "HE thinks he's Christ." The Countess' tantrums and manipulations are driving the old Count into rages himself. Plummer and Mirren give as good as they get in these epic eruptions.
McAvoy ("The Last King of Scotland") is adept at this naive witness-to-history role. His character also is practicing Tolstoy's vow of celibacy and his discovery of love (Kerry Condon, as a pre-Communist Communist) becomes the film's romantic relief. But this is a tale of two love stories — the Count loves his Countess, and Valentin must choose between his idol and his lover.
The film feels familiar even in its novel moments, this war of wills between great husband and the woman behind him, the opening of the eyes of the naive lad who becomes a man.
As in "Restoration," Hoffman mixes corny melodrama with history, ably mining the attitudes, personalities and mores of an obscure corner of history. In letting us see the fiery woman who helped the great writer bring "War and Peace" to the page, in casting a light on the mortal, personal combat over Tolstoy's legacy, he makes "The Last Station" a stop any literary-minded movie-goer will want to make.
More like this story on Lawrence.com