Sunday, February 28, 2010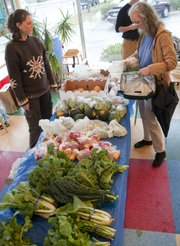 As the local food movement grows, I keep hearing the acronym CSA and the phrase it represents, Community Supported Agriculture, but I often hear it misused or misunderstood.
Leavenworth County farmer Paul Conway defines CSA in simple terms that I appreciate.
"People are familiar with subscription services. Most CSAs are a farmer or group of farmers who provide produce and fruit to a group of customers," he says.
Those customers, or subscribers, have either paid a set amount early in the season or pledged money throughout the season to help the farmer cover his or her startup costs. Since they are receiving farm produce in return, customers also share in the risk of crop failure and reduced harvests.
Conway is a farmer member of the Rolling Prairie Farmers Alliance (RPFA), a local, nontypical CSA. He grows vegetables on his farm, Conway's Produce. Conway was familiar with the CSA concept when he and a few other area farmers decided to join forces and create the RPFA in 1994. The CSA now has seven farmers, about 300 subscribers and four pick-up locations.
"What makes us different from most CSAs is that we don't charge in advance for the whole season," Conway says. Customers in RPFA pay a deposit with sign-up and then pay each month for the vegetables they receive. "It's essentially pay as you go."
RPFA is also a little different from a typical CSA model because customers only get to see the farmer who is at their pick-up site. In original models in Switzerland and Japan in the 1960s, the focus was really on community building and consumers getting to know farmers. In Japan, CSAs are known as teikei, and essentially translate to "food with the farmer's face on it".
The benefit of multiple farms and pick-up sites is that RPFA is able to provide a wider variety of produce to their customers. RPFA also has the same farmer at the same site each week, so customers have a familiar face. Conway manages the Johnson County Community College pick-up site.
"It's appealing to me because you get a chance to develop a relationship with the customers," Conway says. "Farmers' markets are always questionable as to whether you'll sell everything or not."
Although RPFA is a nontraditional CSA, it provides an opportunity for customers to get to know producers, to receive nutritious food and to support the local economy. It also offers a reliable market for producers.
RPFA primarily offers vegetables to its subscribers but also provides some meat, eggs and berries.
Two other local farms offer CSAs in a more traditional format They are Moon on the Meadow, 1515 E. 11th St., and Spring Creek Farm, 1841 N. 150 Road, Baldwin City.
Both do on-farm produce pick-up. Contact the farms individually for more information.
Some grocers are now offering subscription services that they call CSAs. Since some of these offer little opportunity for consumers to get to know the farmer; they are a little different from even the nontraditional models. Consumers who are really interested in supporting local agriculture should do their homework on stores' relationship with farms.
The 2007 Census of Agriculture reported 173 CSAs in Kansas and more than 12,000 nationwide, up from about 400 CSAs nationwide in 1993.
Jennifer Smith is the Horticulture Extension Agent for K-State Research and Extension - Douglas County and can be reached at 843-7058.