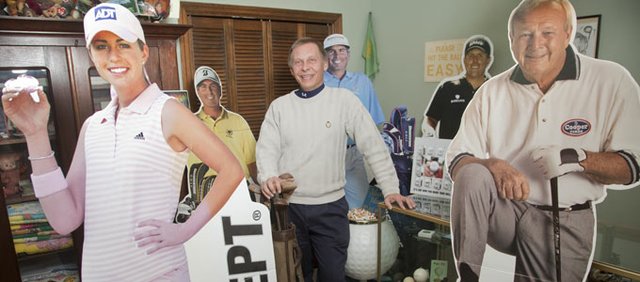 Sunday, February 28, 2010
Collectors and their coveted collectibles come in all shapes and sizes. But, as three local hunter/gatherers prove, they all share a common mantra: More is more.
***
Some people collect things for luck; others for spiritual enrichment.
Loretta Gantenbein lives in a modest two-story home in Eudora with her husband, Larry, and 600 sisters. As in, women of the cloth.
"My grandmother's four sisters were nuns," Gantenbein explains. "Actually, there were five that went in (to the Sisters of St. Joseph order), but one decided she liked the boys too much, so she came out after a year. The other four stayed all their lives."
With great aunts named Sister Prexedes, Sister Rosalie, Sister Emory and Sister Daphne, it's no wonder Gantenbein chose to collect replicas of holy women more than two decades ago.
"It started with a traditional little 8-inch doll, dressed in black and white," she recalls. "She was the first one I got. Then, we found a second one."
After that, collecting became a religion.
"We moved into this house 20 years ago, and what few (nun dolls) I had, I set up on the buffet in the dining room and took their picture. I had nine then. Now, I have 600. It's unbelievable. And none of them match!"
Like many collectors, Gantenbein is enabled by family and friends who feed her - pardon the pun - habit.
"My husband and I used to hit the flea market in Kansas City every month, but my daughter is the biggest source now," she says. "She came here and took pictures of all of them, row after row. She'll find something on eBay and check whether I already have it before she buys it and gives it to me. Someday, she'll have to stop because she has no interest in inheriting the collection."
***
While Loretta's nuns are still confined to her dining room, Lawrence resident Dan Consolver's collection of golf memorabilia occupies virtually every room of the home he shares with his wife, Rhonda, and 14-year-old daughter, Kelsey.
"We're living in the hobby," Consolver says, without a hint of embarrassment.
It started in 1985 with a small assortment of golf books and souvenirs that filled one bookcase in their former home.
Today, the Consolvers' four-bedroom bi-level in west Lawrence is a combination golf museum, library, shrine and theme park with more than 1,000 books and countless scorecards, pin flags, tees, balls, clubs, bobblehead dolls, photographs, Christmas ornaments and, yes, golf-themed pretzels on display.
Dan even converted the study into a pro shop complete with life-size cardboard cutouts of golf professionals Arnold Palmer, Fred Couples, Paula Creamer and Phil Mickelson.
"We saw Phil downtown at Kinko's and asked if we could have him," says Rhonda. "They said because his image is trademarked, they had to cut off his head when they were done with him and couldn't give him away. I mentioned this to the FedEx driver where I work and, about a month or so later, I came in, and Phil was laying on my desk."
The only rooms yet to be infiltrated by golf paraphernalia are the family bedrooms, although Dan admits the landscape is starting to change in the master suite.
"There has been some incursion," he admits. "We have a great golf ball lamp on the nightstand and a set of blueprints from a miniature golf course in there."
***
We all know the saying, "Find a penny, pick it up. All the day you'll have good luck."
For Gregor Brune, a copper coin found Sept. 27, 1999, in downtown Lawrence, provided more than a day of good fortune. It gave him a lifelong hobby.
"It was a lucky penny because I was going through some hard times then," Brune recalls. "When I saw it on the street, I thought, 'If that's a 1968 penny, it will be an affirmation that everyone's going to be okay.'"
He reached down, picked up the coin and voila! 1968.
"I grew up with an appreciation for the counterculture and always thought 1968 was an especially interesting year in that period," he explains. "Even as a kid, I had a fascination with the year and would collect items relating to it - records, books, magazines, for instance.
"I thought, 'This is a lucky penny; I'd better hold onto it.' Then, a couple weeks later, I found another one on the street in Clay Center. Sure enough, it was a 1968, too. I started to wonder how many I could collect if I put my mind to it."
He put his mind - and a lot of his time - to looking through all the change he could find for the magical, mystical number. Soon, others got into the act. Today, with a little help from his friends, co-workers and perfect strangers, Brune's collection exceeds 21,000 1968-minted pennies. He even built a Web site, 1968pennies.com, devoted to it.
"I put up the site to acknowledge everyone's contributions, because some of them have gone to great trouble to get the pennies to me," Brune says.
The collection is currently housed in a display case at "hippie boutique" Beyond the Door, 918 Mass. The case is locked, but not because of theft concerns.
"I just didn't want anyone to get into the jar and put in pennies that weren't '68," Brune says. "That would contaminate the collection!"
He says he has no intention of cashing his pennies in and scoffs at the notion that he's bilking people.
"Some people think I'm doing this as a scam," he laughs. "One person asked me if this was a get-rich-slow scheme."
More like this story on Lawrence.com